August Smart Door Lock Not Working (Troubleshooting Guide)
Technology has evolved in reaps since the internet's discovery. Smart door locks are a thing now, and many homeowners are turning to this technology.
As much as we trust technology, there are downsides too of using smart locks.
This article will hopefully help you troubleshoot your August Smart Door Lock in minutes!
August Smart Door Lock Not Working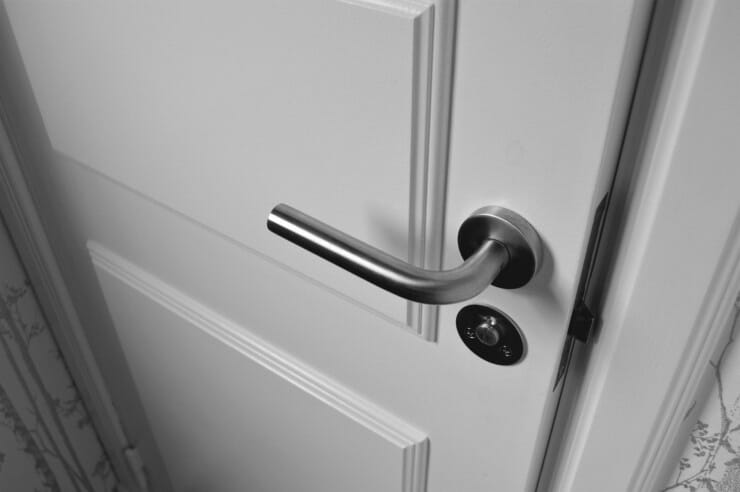 If your August bright door lock is not working, there could be many issues causing this problem, like poor network connection, software and hardware cases, or the batteries.
The first step in any scenario is to check if the smart lock is correctly connected to Wi-Fi or Bluetooth.
Confirm this by opening the smart lock app to see if the light is green next to your account's name.
August Smart Door Lock Working Principle
The key aspect that August smart door lock users love is the auto-unlock feature.
Imagine your door unlocking without you lifting a finger! It is truly a wonderful experience. 
The GPS in your phone indicates your location whereby if you are within 20 meters, auto-unlock opens the door and changes from Away mode to Home mode.
How To Troubleshoot Common August Smart Door Lock Problems
The App Indicates Incorrect Lock State
August app may register that the lock is unlocked when in a real sense, it's locked, or nothing happens when the circle turns gray. This situation calls for recalibration.
For optimal performance, August Smart Locks require proper and frequent calibration.
Remove and reinsert one battery, then ensure you are within Bluetooth range of your lock.
Once you do that;
Open the August app on your device and locate the lock that needs recalibration.
Tap the gear icon to open Lock Settings.
Click on the Calibrate Lock icon.
Follow the given instructions to the letter.
The Lock's Wi-Fi Not Reconnecting
The lock's firmware is designed to reconnect to your home network if it gets offline.
The intelligent lock should restore its Wi-Fi connection when the home network recovers from a network connectivity issue.
Here are the steps to take if the network is back online and the smart lock has not reconnected:
Remove and reinsert the battery.
Disable your phone's Bluetooth temporarily.
Power on the smart lock.
Wait for some time, then check if the lock has reconnected.
The Smart Lock LED Indicates A Red Light
Nothing good ever happens when any electronic device starts blinking red, but worry not. If your August smart lock indicates red, it may simply be that it has run out of battery.
To fix this, put in 4 new A.A. Alkaline batteries. It's vital to replace all four batteries at the same time.
When you mix old batteries and new ones, problems are bound to arise with your smart lock.
Software Upgrade Issues
Your August smart lock should have the latest software for peak performance. The firmware is designed to update automatically when new updates are released.
Sometimes the firmware may not update automatically.
In that case; turn your phone's Bluetooth off and on, make sure the Wi-Fi is working then update the firmware.
If the problem keeps recurring, feel free to contact August customer care.
How To Enter Your Home If You Lose Your Phone
The existing deadbolt is not removed when an August smart lock is installed.
The exterior of your door doesn't change much, and you can use the physical key to open and close your door.
If your phone was stolen and you fear for your safety, get internet access and log out of all devices. Below are the steps on how to do this;
Go to the August official website.
Log in with your email and password.
Input the verification code sent to your email.
Select the Lost Phone icon to log out of your account on all devices.
Tap log out of the August app to complete the process.
In case you have no physical key, you will need another smartphone.
Download the August app on the new phone and log in to your August account.
Error 401
This is an authorization error that occurs when you forget your password.
A prompt to enter your cell phone number appears, and an SMS verification code is sent to your phone.
Once you successfully log in to your account, the app asks for the email address associated with that account.
If you enter a different email account, you will receive Error 401.
Frequently Asked Questions
The following questions and answers are relevant to every generation of the August Smart Lock.
Can I Install An August Smart Lock With Any Existing Deadbolt?
No, only single-cylinder deadbolts are compatible with the August smart door lock at the moment.
If your door has an existing rim cylinder, mortise, or integrated deadbolt, forget about installing the smart lock.
Are August Smart Locks Weatherproof?
The manufacturers have tested every model of August Smart Lock in all types of extreme weather conditions.
However, they are not designed to be weather-proof and should not be used outdoors. 
Does My August Smart Door Lock Have A Warranty?
The warranty on all August products only applies to the original purchaser, who must have purchased and used the product within the U.S. and Canada.
The warranty lasts for one year from the date of purchase.
How Many Properties And Devices Can I Have Attached To One Account?
There is no maximum number of properties that can be added to one August Account.
You can create keys for all of them in your August App if you manage multiple properties. 
In the same way, there is no limit to the number of devices that can be added to one property.
Final Thoughts
If you observe the above instructions when your August smart lock misbehaves but the problem still persists, it's time to take an extra step.
You can call customer support, or reach out to your local locksmith for repair assistance.
We hope this article proves to be of use if your August smart lock has issues. Just follow the steps above to troubleshoot the device and you'll be sorted.