Best Grout Cleaning Machine
Unlike other surfaces, grouts can be messy and hard to clean.
Since they're made of cement, sand, and water, making them porous, water, grime, and dirt can penetrate.
Once grime and dirt get inside the grout, scrubbing and regular cleaners cannot make it clean. That's where a grout cleaning machine comes in.
It simplifies the process by getting into the grout pores to extract all the dirt, giving you satisfying results.
Many grout cleaning machines are on the market today, and picking the best can be challenging.
This review covers effective and time-tested grout cleaning machines you can choose from to avoid splurging on unreliable products.
Best Grout Cleaning Machines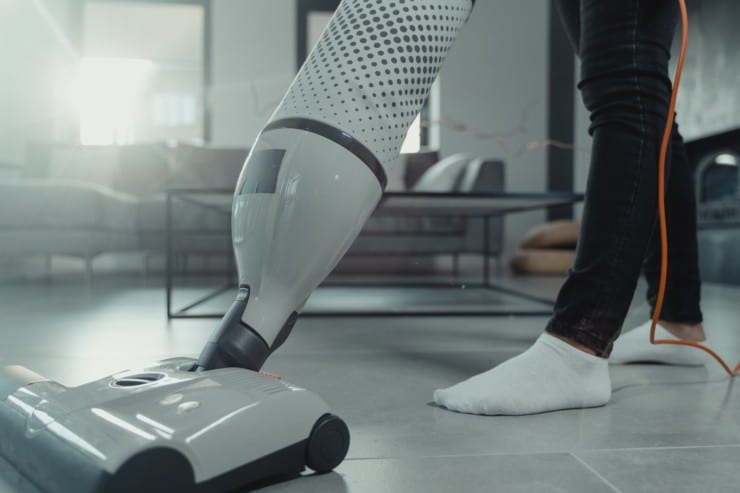 Whether you need to clean your floors at home or work, below are the best grout cleaning machines you can choose from.
Read on to find out their unique features, pros, and cons.
The McCulloch MC1375 is a high-pressure grout cleaner that uses no harsh chemicals. Its steam dissolves grime and dirt, then expels them from the grout.
A dial next to the hose port allows you to regulate the amount of steam you need.
This is beneficial because some grouts require higher pressure steams than others, depending on the stubbornness of the dirt.
The cleaner comes with a 10-foot hose that's flexible to enable you to get to all tiny spaces. When you purchase this machine cleaner, you get 20 accessories that aid in cleaning.
Among them are a scraper and a scrubbing mopping pad.
Features
48 Oz water tank
18-foot extension cord
Chemical-free cleaning
4 Bars of Variable Steam
20 accessories
Pros
Uses no harsh chemicals
Long power cord
Allows you to vary steam
A large water tank that lasts through a 90 minutes cleaning
Flexible 19-foot hose
Cons
It lacks a low-water shutoff
This Dupray machine cleaner has numerous accessories and features to clean your grout. Its 54oz water capacity means you won't keep refilling during cleaning.
The 16-foot power cord and a 6-foot hose allow you to reach those hard-to-reach surfaces.
It's lightweight and portable through its rectangular handle that fits into the cube design. The design makes it easy to turn on or off.
All you need to do is push the button in, and once it turns green, you start cleaning.
When it comes to steam, this machine can reach up to 275 degrees F, killing 99.9% of bacteria, germs, and viruses.
Its steam pressure rises to 50 psi to allow you to remove the stubborn grime and tough stains on your grout.
This machine has 17 accessories, including microfiber pads, nylon brushes, and extension tubes.
Features
16-foot power cord
54 oz water capacity
Retractable handle
Up to 275 degrees F, superheated steam
Chemical-free
Pros
It comes with a 54oz water tank capacity
A long power cord to facilitate reach
Smooth wheels for efficient mobility
Excellent for deodorizing and degreasing
50 minutes of continuous cleaning when filled up
Cons
Has no water level indicator
PurSteam Steam Mop Cleaner is a lightweight, handheld cleaning device. It uses tap water without the addition of harsh chemicals for cleaning.
The device has an 11.5 Oz water tank capacity that gives you up to 25 minutes of continuous steaming on its lowest setting.
This machine cleaner has three steam modes that you can adjust according to your needs. It features a 16-foot-long power cord to enable you to maneuver through tiny spaces.
Unlike other cleaning machines, the PurSteam Steam mop cleaner takes 30 seconds for the steamer to heat up, saving you time.
This machine has accessories such as a steamer jet nozzle, an angled nozzle, three brush heads, and a scraping tool.
Features
11.5 -ounce water capacity
Three steam modes
Chemical-free
16-foot power cord
30 seconds heat up
Pros
Easy to install attachments
Eliminates germs and bacteria
Doesn't use harsh chemicals
Convenient in operation
Adjustable steam settings
Cons
This BISSELL appliance removes all the dirt and debris from your grout using natural power steam. It has a Touch Dial Control feature that allows you to switch between functions when cleaning.
The appliance has a 16-ounce water tank capacity. When cleaning, you don't need to add anything to the water; use it chemical-free.
The 23-foot power cord is long enough to allow you to access other rooms without changing outlets.
This steam mop has three adjustable steam modes to meet your cleaning needs. These include low, medium, and high levels. 
Features
Touch Dial Digital Control
Adjustable steam levels
A flip-down scrubber
23-foot cord
16-ounce water tank
Pros
Has different cleaning modes
Long power cord
Eliminates bacteria and germs
Doesn't use harsh chemicals
Cons
The scrubbing brush is of low quality
Shark S7000AMZ steam mop features two steaming modes; light and regular.
You should use the light mode for quick cleanups and the normal one for daily cleanings. This appliance uses no harsh chemicals for cleaning; tap water does the work.
It has rotating pads and powerful steam that remove stubborn stains and 99.9% of bacteria and viruses. These rotating pads and the scrubbing mop head provide 150+ scrubs/minute.
Features
Two steam modes
Chemical-free
22-foot power cord
Rotating power and steam pads
Server steering
Pros
Lightweight
Heats up quickly
Easy to assemble
Sleek design
Eliminates bacteria and viruses
Cons
The suction power is less efficient
Best Grout Cleaning Machine: Buying Guide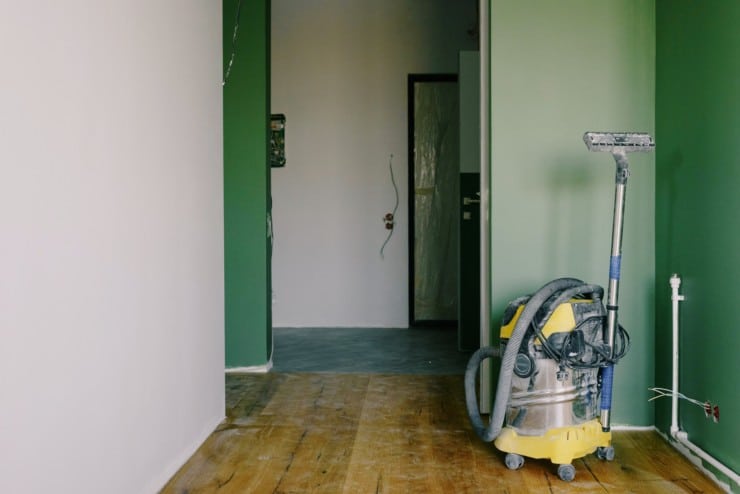 Since choosing the best grout cleaning machine can be challenging, this buying guide simplifies your work.
It provides you with all the factors you should consider when purchasing a grout cleaning machine to get your desired results.
Water tank capacity
Grout cleaning machines come with different water tank capacities. Some are small and hold less water, meaning you'll need to refill during your cleaning.
The best grout cleaning machine is one with a large water tank capacity. This way, you can clean up without having to refill between your cleaning.
Number of steam modes
Some grout cleaning machines have one steam mode, which means all your cleaning will use the same steam pressure.
Others come with two or three modes. When buying, choose a grout cleaning machine with different steam modes, say two or three.
This feature allows you to select the steam pressure level you need for a particular spot based on the stubbornness of the dirt.
It lets you increase or reduce the steam pressure to your needs.
Length of the power code
A long power cord means that you can clean grout in other rooms while maintaining the same outlet.
With a shorter one, you'll need to keep changing and shifting to different power outlets, this wasting time. The best grout cleaning machine has a length of above 16-feet.
Weight
When buying a grout cleaning machine, choose one that's lightweight and portable. This will allow you to access the hard-to-reach areas like under the furniture.
A portable appliance eliminates the inconvenience of carrying it around, especially if you're cleaning a house with several floors.
Online reviews
Before purchasing this appliance, check reviews online on sites like Amazon to understand how it works and learn about any malfunctioning from previous buyers.
The best grout cleaning machine is one with several positive reviews. 
Additional accessories
Most grout cleaners usually come with a variety of accessories during purchase. The best grout cleaning machine has different accessories that aid in cleaning.
Choose one with brushes, angled, and flexible nozzles to access hard-to-reach surfaces. Those that come with scraping tools are ideal for eliminating stubborn dirt.
FAQs
How frequently should you do grout cleaning using the machine?
Clean your grout once or twice a year. Frequent cleaning will damage and weaken the grout.
The frequent thing you need to do is the regular maintenance of the grout.
Do grout cleaning machines damage tiles?
Grout cleaning machines do not damage tiles; they're effective for tile floors.
If your tiles have gaps, leakages, or swelling, avoid using steam mopping to clean them because they can increase the damage.
Is steam cleaning a safe method of cleaning grouts?
Provided your grouts are installed well, steam cleaning is a safe option for them. It offers deep cleaning and protects your grout from damage.
Steam cleaning isn't recommended if there's any gap or swelling on the furnace.
Final Thoughts
Grout cleaning machines are a necessity for home and commercial use. When purchasing one, consider its unique features to enhance your cleaning.
Since there are different options on the market to choose from, ensure that your ideal choice has the features that can allow you to maneuver through hidden spaces.
Our five best choices above do the job well. They are lightweight, portable, and flexible, with long power cords to get under furniture and hard-to-reach places.
These appliances have unique features, including variable steam modes and large water tank capacities.