Moving blankets are some of the most budget-friendly soundproofing materials. They're a great way to soundproof your home while on a constrained budget. 
Moving blankets block noises and reduce echoing.
Naturally, a soundproofing blanket dampens the noise but can't silence all the noise. But they create incredible relief, and they're easy to use.
What are the best moving blankets for soundproofing, therefore?
The best moving blankets for soundproofing have layers of dense material, such as mineral wool, fiberglass, polyester, and woven cotton.
However, due to their structure, they block air passage through the fibers. Blocking air, a significant noise transmitter, allows moving blankets to have acoustic properties.
Let's look into how moving blankets work:
Best Moving Blankets for Soundproofing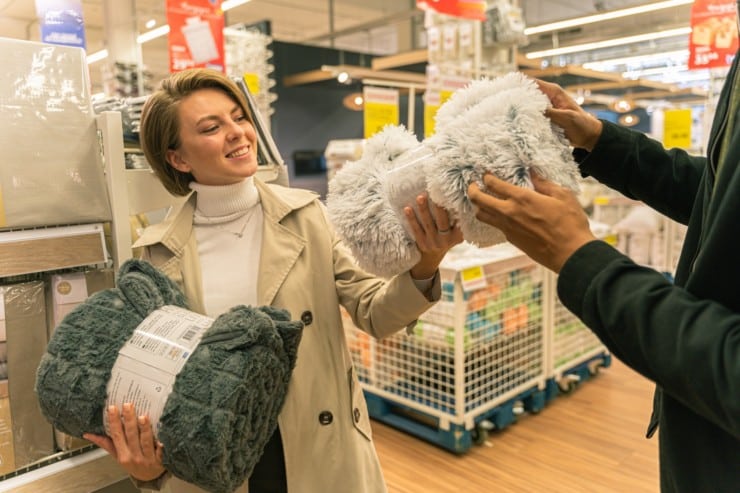 The best moving blankets for soundproofing help by stopping the sound to not bounce off the surface. Therefore, this effectively kills off echoes and reverberation. 
In addition, the moving blanket prevents air passage, consequently preventing the penetration of sound waves. Moving blankets give you enough peace to keep you relaxed and focused. 
Herein, you'll find the best moving blankets for soundproofing that ay work effectively in.  
EcoBox Moving Blankets (12 Pack)
The EcoBox moving blankets are lightweight blankets that deaden vibrations and echoes in your recording studio or music room.
You can hang these blankets on any surface, making them perfect because of their versatility. 
However, they don't absorb as much noise as thick blankets because they're lightweight. Therefore, the blankets help you dampen reverberations and echoes only to a certain level. 
The other good thing about these blankets is that they're durable due to the double-stitched edges that don't unravel.
ZENY Quilted Moving Blankets (24 Pack)
If your soundproofing project needs many blankets, these ZENY blankets are a great choice. Thus, the blankets allow you to save as much money as you buy them in bulk. 
Additionally, they're economical, but they have excellent quality material.
The blankets have a cotton material inner stuffing and polyester on their outer lining. Therefore, the material combination makes them effective enough to deaden sound.
Furthermore, the blankets have double lines on the edges to stop them from unraveling with consistent use. And the blankets' body has a zigzag pattern that adds flair and durability. 
WEN Padded Heavy Duty Moving Blankets
These WEN moving blankets are a heavy-duty option made from 100% polyester and can soundproof any room.
Depending on the project you intend to use them for, you might find them the right fit or too small.
Nonetheless, the 6'' by 3'' size fits smaller areas like small windows. Also, the blankets come in six and twelve packs, which makes them suitable for bulk projects. 
You'll also love their black body and colorful orange lining with white zigzag stitches. Thus, these moving blankets best fit a home theatre or gaming room. 
And the best part?
They're machine washable, which indicates the blankets' superior quality. Poor quality moving blankets aren't machine washable.
So, if your sole purpose is to reduce echoes and absorb sounds, then these polyester blankets do the job well. 
SOMIDE Moving Blankets 
The SOMIDE moving blankets are one of the biggest moving blankets available online, with 72 inches by 80 inches dimensions.
Also, their square shape makes them appropriate for areas like large wall sections or expansive floors.
The inner part of the blanket has stuffed cotton. And the best part? The cotton material keeps the blanket fresh, ensuring it doesn't give off a foul smell over time. 
If you love aesthetics, then SOMIDE provides a star pattern that keeps the blankets attractive to look at.
Because you can only purchase one of these blankets at a time, you can opt for a more economical option if you need the blankets for a big soundproofing job. 
Sure-Max Quilted Packing and Moving Blankets (12 Pack)
The Sure-Max Quilted Packing and Moving blankets are an effective and pocket-friendly way to make your environment quiet. 
Each blanket offers 36 sq ft coverage, and the blankets come in a 12 pack package. 
Therefore, a pack is enough to cover multiple rooms or a large area. Also, the blankets come in polyester material and are oversized, all the suitable characteristics needed in quieting noise. 
However, the blankets are lightweight, which limits their soundproofing ability. Therefore, if you desire excellent soundproofing ability, you need to check elsewhere.
FAQs
Are Moving Blankets Good for Soundproofing?
Yes, moving blankets help in noise reduction and are great for sound deadening.
To dampen sound in a room, you need good quality moving blankets, adhesive, and a few minutes of your time.
Are Moving Blankets the Same as Soundproof Blankets?
Moving blankets and soundproof blankets play a similar role in dampening noise. Furthermore, sound blankets fit well when wrapping fragile items and furniture to prevent damage. 
You can also use them for absorbing sound. Accordingly, moving blankets deaden noise coming from a room.
How Do You Hang a Moving Blanket for Soundproofing?
One of the easiest ways to hang a blanket is to use nails to fix the blanket on the wall.
If you want the blanket to be straight, you need to pin the two upper corners first, then the other two bottom corners. 
Do Heavy Blankets Block Sound?
Heavy blankets block sound mainly because of their thickness. But because they're still breathable, the tiny holes still allow the penetration of sound waves.
Can Weighted Blankets Be Used for Soundproofing?
If the moving blankets are heavier and thicker, the better they dampen sound.
Thus, heavier blankets are better in reducing echoes, reverberations, and noise reflection through absorbing them.
Final Thoughts
Sometimes you just need to make your environment a little quieter to get more productive. 
Or maybe you're a light sleeper, and you want to make your bedroom a little more soundproof. Whatever your desires are, moving blankets ensure a quieter and better environment.
However big or small your project is, moving blankets offer a practical and high-quality method of dampening noise.