Can Vinyl Be Used on Bathrooms or Shower Walls?
Remodeling your bathroom is one of the most satisfying tasks when renovating your home. However, the time and costs stop homeowners in their tracks.
If you have braced yourself for this endeavor, we suggest checking out vinyl.
Can vinyl be used on bathroom or shower walls?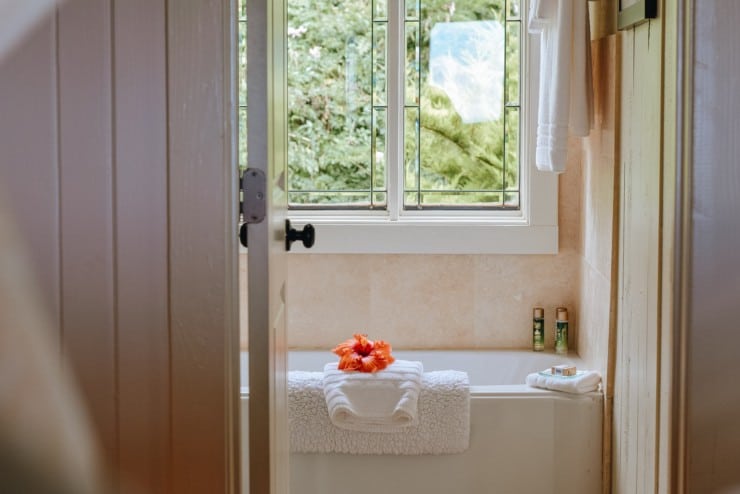 Vinyl is the ultimate choice of most customers because of its distinct finish and personality. The material is easy to install and requires minimum maintenance because of its water resistance.
You can use vinyl planks on the bathroom walls to add a character.
The next time someone asks you, "can vinyl be used on your shower or bathroom walls," tell them yes. In fact, it is one of the best choices you can make for your space.
Why should you opt to install vinyl in the bathrooms?
Many people opt for vinyl as a design technique. It gives a fresh take to your ordinary décor and enhances the colors.
Another reason why more people are opting for vinyl is its affordability. Purchasing vinyl won't burn a hole in your pocket, making it a great alternative to tiles and other wall décor options.
And as mentioned above, vinyl is pretty low-maintenance. You don't have to buy fancy cleaning solutions to keep it shiny.
Moreover, you can find vinyl in several shades and styles. It helps to match your walls with the overall home aesthetics.
You will indeed find tons of options when surveying vinyl tiles, so there is no point fretting over a mismatch.
Composition of vinyl
Vinyl makes a perfect alternative to the costly ceramic planks and tiles.
If you are looking for a matching vinyl for your shower space or bathrooms, make sure you study its composition.
Opting for luxury vinyl planks or the LVP is always the best approach. These are much thicker and more rigid than other vinyl items.
Besides this, it is vital to know the distinction between SPC and WPC vinyl planks:
The wood-plastic composite
WPC is often called the water-resistant core vinyl. This is due to the waterproof layer within. The planks don't let water seep in, protecting it from mildew, mold, and moisture.
The stone-plastic composite
This is categorized as waterproof vinyl because of its composition. Due to its limestone particles, it is more dense and sturdy than the WPC vinyl.
Given that the SPC planks can take the wear and tear much better than WPC, these planks are viable for commercial purposes.
Installation of vinyl planks is relatively easy. The key is to have an intact and even surface where the planks could stick.
When the planks are put on the wall, you should move to the caulk.
This involves lathering a sealant on the tiles and covering the gaps on the wall. If you skip this step, the opening within tiles could expand and disrupt the tile work.
What do you need when installing vinyl on the bathroom or shower walls?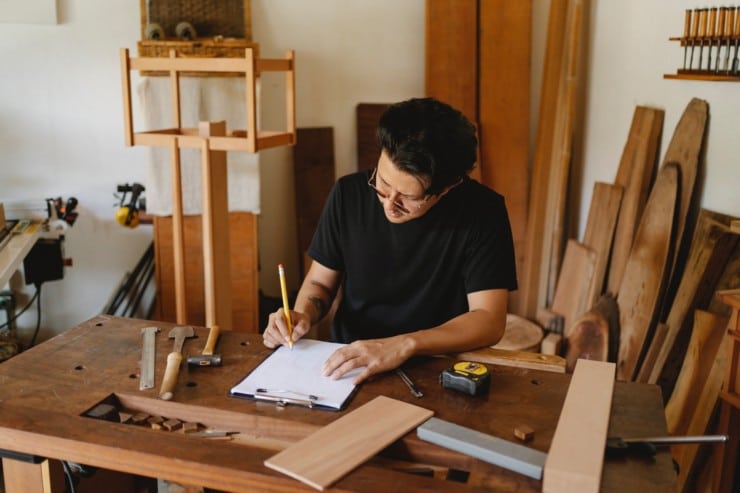 You must plan the structure and layout of a space according to the product you are willing to use. Before you set to the task of installing vinyl on the walls, here is what you should arrange:
Adhesive
Ensure you buy an appropriate adhesive that won't damage the cladding.
Tape measure
Any tape measure with the correct placement of numbers would work.
Rubber roller
This helps to stick the tiles on the walls.
Jigsaw
To make precise and intricate cuts.
3/16" Spacers
This helps keep the perimeter around the walls and makes space for tiles to expand.
Considerations when using vinyl on the bathroom walls
The resilience, cost-effectiveness, and water resistance of vinyl are some fantastic perks of installing vinyl on the bathroom or shower walls.
Nonetheless, you should pay attention to certain factors when you proceed with the vinyl installation:
Ensure that the sub-floor is neat and smooth. If the walls or floor isn't squeaky clean, the debris underneath can leave bumps on the vinyl.
Some kinds of vinyl can affect the air quality. The flooring comprises chemicals that produce volatile organic compounds (VOCs). These compounds are disastrous to health. Hence, make sure that the flooring has low VOCs.
Another fact you should know is that vinyl production isn't environmentally friendly. It is made from petroleum which is non-renewable and made of harmful chemicals.
Should you use vinyl on bathroom or shower walls?
Using vinyl on bathroom or shower walls is worth considering. After installation, don't forget to caulk because it creates a waterproof panel that won't let the moisture pass through.
It is worth noting that vinyl walls don't work well in hot places like Turkish baths or saunas. This is because the heat can impact the adhesive under the planks.
What should you put under vinyl tiles on the bathroom walls?
You should use a high-quality adhesive. There are options like industrial-grade VOC or waterproof adhesives.
Apart from these, it would be best if you also used the tapping block to seal all pieces. This guarantees that the moisture doesn't penetrate the tiles and grow mold.
FAQs
Can you put vinyl tiles on bathroom walls?
Yes, you can put vinyl tiles on the shower and bathroom walls. The reason includes its moisture-repellent qualities and bright aesthetics.
Is vinyl suitable for bathrooms?
Vinyl is a fantastic choice for bathroom and shower walls. It is durable, water-resistant, and easy to maintain.
If you take precautions like cleaning the walls before installation, you can expect a prolonged adherence of the vinyl planks.
Does peel and stick vinyl work for bathroom walls?
Peel and stick or self-adhesive vinyl have become increasingly popular because of its versatility and cost-effectiveness.
Its water resistance quality makes it an ultimate choice for kitchen and bathrooms.
Final Thoughts
Vinyl has proven itself as one of the most durable materials. It is essential that you determine the layout and structure of a room before you opt for vinyl installation.
It is a pocket-friendly way to upgrade the look of your bathrooms or showers. Many homeowners are opting for it and give positive reviews.
Make sure that you conduct extensive research and follow the instructions for lasting outcomes.