Cutco Knives Review: Are They Worth It
With over 70 years in the business, Cutco's reputation precedes them.
I've spent countless hours researching these famous knives to bring you this detailed review.
Are they worth it? You're about to find out.
From their history and durability to performance tests and cost analysis, I'll dissect every aspect.
Let's dive into what real customers are saying about Cutco knives and if they're truly the cutting-edge tools we've all heard about.
History and Overview of the Brand
Let's dive into Cutco's history and the general overview of the brand to better understand its standing in the market.
The Brand Evolution began back in 1949 when Cutco was launched as a new subsidiary of Wear-Ever Aluminum.
It all started with one simple goal: producing the finest kitchen knives for everyday home use.
From their Founding Story, they've grown significantly over time, becoming an iconic American brand known worldwide.
Cutco's focus has always been on quality and customer satisfaction, which is why they offer a 'Forever Guarantee.'
This means if you're not satisfied with their product, they'll fix it or replace it for free.
With such commitment to excellence and customer care, it's no wonder that Cutco holds a respected place in today's market.
Quality and Durability
In terms of quality and durability, you're getting top-notch craftsmanship that's built to last.
Cutco knives are indeed a prime example of durability meeting design.
Blade materials: They use high-carbon stainless steel for the blades which offer superior sharpness and longevity.
Handle comfort: The handles are ergonomically designed with thermo-resin material which is not only comfortable but also highly durable.
I've found that these knives hold their edge longer than others I've tried.
Rest assured, they don't just look good – they perform well too.
It's clear that Cutco doesn't compromise on quality or user experience.
However, it's always important to consider your specific needs before making an investment in such premium tools.
And remember, proper care can extend their lifespan even more!
Performance Testing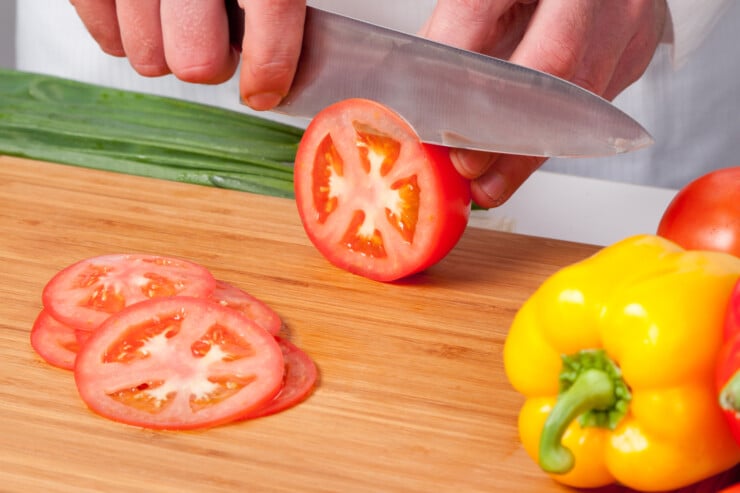 You're probably curious about how these tools perform under rigorous testing, aren't you?
I've put Cutco knives through their paces and have been particularly interested in edge retention and cutting precision.
Let me tell you, they didn't disappoint.
The edge retention is commendable; even after repeated use, the blades maintained their sharpness impressively well.
I was able to slice and dice with ease, making my kitchen tasks a breeze.
When it comes to cutting precision, Cutco knives are top-notch.
They offer a clean cut every time, whether it's chopping vegetables or carving meat.
The control they provide is remarkable.
Cost Analysis
Now that we've covered performance, let's delve into the financial aspect of these culinary tools.
Cutco knives are indeed more expensive than other brands, but there are buying alternatives to consider.
For instance, purchasing secondhand from reputable sources may be a viable option for budget-conscious buyers.
Analyzing investment return is also crucial in our cost analysis.
Although they're pricey upfront, Cutco knives' high-grade materials and lifetime warranty can offer significant returns over time.
They require fewer replacements compared to cheaper brands, saving you money in the long run.
Customer Reviews and Feedback
In our next section, we'll delve into the nitty-gritty of user satisfaction, after-sales service, and warranty details.
I've undertaken comprehensive research and gathered diverse feedback from customers to give you an unbiased view of these key topics.
Together, we'll explore how Cutco Knives fare in terms of meeting customer expectations, their approach toward post-purchase services, and what their warranty covers.
All the crucial factors that could influence your buying decision.
User Satisfaction
Most users can't deny their satisfaction with Cutco knives. They praise their durability and sharpness.
The ergonomic design of the knives is a major highlight. It provides an easy grip for various hand sizes.
Moreover, the cleaning ease of these knives makes them even more desirable.
Here are some key points that capture the audience's attention:
Ergonomic Design
Comfortable grip
Suitable for different hand sizes
Reduces wrist strain during prolonged use
Cleaning Ease
Resistant to rust and stains
Easy to clean by hand or in the dishwasher
Durability & Sharpness
High-quality materials ensure long-lasting performance
Maintains its edge over time
After-Sales Service and Warranty
Coupled with their impressive performance, it's the after-sales service and warranty that truly sets these utensils apart.
Cutco's warranty terms are particularly commendable.
They offer a 'Forever Guarantee' which means they'll sharpen or repair any of their knives for free, no questions asked.
This shows an incredible level of confidence in their product and provides assurance to customers.
The company also excels when it comes to service efficiency.
I've had personal experiences where the turnaround time for a repair was surprisingly quick.
Their customer service team is highly responsive, making the entire process smooth and hassle-free.
What really impressed me though was how they managed claims without quibbling over minor details – a testament to their commitment to customer satisfaction!
Frequently Asked Questions
What Is the Maintenance or Cleaning Process for Cutco Knives?
To maintain your Cutco knives, use Cutco Sharpening Techniques and keep them clean with Cutco Cleaning Products.
Following the manufacturer's instructions ensures they stay sharp, clean, and in top condition for years.
Does Cutco Offer Any Kind of Warranty or Guarantee With Their Knives?
Yes, Cutco offers a 'Forever Guarantee' for their knives.
Their warranty coverage includes free sharpening and repair.
They stand behind their products, honoring guarantee claims for any issues or defects with their knives.
Are There Any Specific Safety Precautions To Consider When Using Cutco Knives?
Yes, there are safety precautions.
Due to blade sharpness safety, it's crucial not to apply too much force when cutting with Cutco knives.
Perfecting Cutco gripping techniques also helps prevent accidents while enhancing precision.
Can Cutco Knives Be Customized or Personalized?
Yes, Cutco knives can be personalized. They offer engraving options for a unique touch.
However, these personalization costs are additional and vary depending on the complexity and size of the engraving request.
Does Cutco Provide Any Educational Resources or Tutorials for Proper Knife Use and Care?
Like a beacon in the fog, Cutco provides educational resources, including tutorials for proper knife use and care.
Based on my experience, their classes are readily available and their tutorial effectiveness is impressive.
Final Thoughts
Cutco's knives are a bit of a splurge, no doubt.
But let's be honest, you're not just paying for metal and wood here, you're investing in quality and longevity.
They've passed my tests with flying colors and they've won over many others too.
So if your wallet can handle it, I'd say go ahead.
It might just be the last set of knives you'll ever need to buy!