Do All Panasonic TVs Have Bluetooth (To Connect Speakers)?
You have decided to take your entertainment a notch higher by purchasing a new Panasonic TV. This TV gives you a fantastic viewing experience.
Even so, its audio needs a boost. And you also want to listen privately and at a standard volume when others sleep.
So, you think of Bluetooth speakers and headphones.
But then, do all Panasonic TVs have Bluetooth to connect to speakers?
No, not all Panasonic TVs have Bluetooth to connect to speakers. But like most TV brands, various Panasonic TVs support Bluetooth.
Hence, TV models like the X-65HZ1000B Ultra HD OLED TV can pair with Bluetooth wireless speakers and headphones to provide quality audio privately.
This article expounds on the Panasonic TVs' connectivity to Bluetooth speakers. Keep reading.
Do All Panasonic TVs Have Bluetooth To Connect Speakers?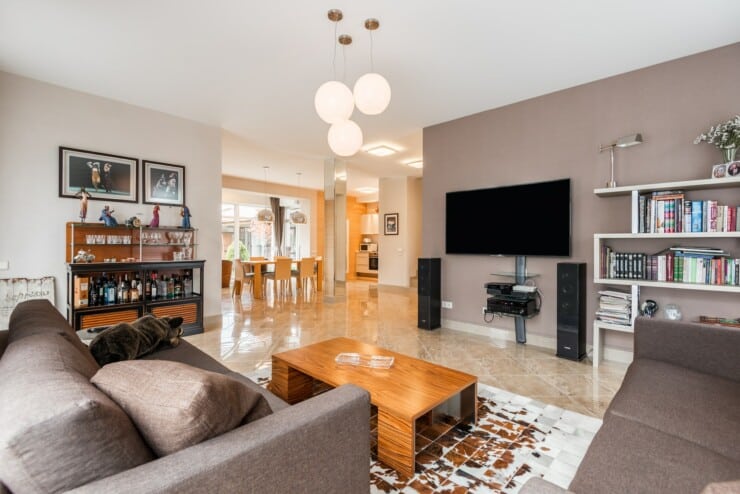 No, some Panasonic TVs do not have an integrated Bluetooth feature. But, most of the latest and higher-end Panasonic TV models are Bluetooth-compatible.
For that reason, you need to be conversant with the connectivity pathway, and we're here to provide a reliable one. 
How Do I Connect Bluetooth Speakers To My Panasonic TV?
Follow the simple and actionable steps below to pair Panasonic TV with Bluetooth speakers:
Step 1
Activate Bluetooth on your TV. Use the remote control to access the 'Menu' of your TV and select 'Setup.'
Click the 'Bluetooth Settings' from the 'Setup' tab and choose the 'Bluetooth Audio Mode Settings' function.
Finally, select 'Transmitter' to set the 'Bluetooth Audio Mode Settings' to 'Transmitter.
Step 2
After enabling your TV's Bluetooth, start the 'Pairing process by clicking the 'Menu' tab with your remote control and selecting the 'Setup' option. 
Step 3
Scroll down the 'setup' tab and click on the 'Bluetooth Settings' option.
Step 4
Choose the 'Bluetooth Devices' option from the Settings on display. Your TV will search for available Bluetooth devices.
Ensure that your speakers are in the correct proximity: Not more than 8 meters from the TV.
Step 5
Follow the sequential operation instructions to ensure the visibility of your speakers for pairing purposes.
Step 6
Once the speakers become visible, the name displays on the 'Bluetooth Devices' list. Select the name to pair with the TV.
Step 7
The two gadgets will start pairing, and once connected, the list displays 'Connected' beside the speaker's name.
It's worth noting that some gadgets may require a password to connect to your Panasonic TV model.
In such a case, try '1234' or '0000.' Alternatively, you can check the specific one from the manual of your device.
Also, you may have to connect your speakers severally to be successful. If they fail to pair with your Panasonic TV, likely, they aren't compatible.
If you're sure you're using the right speakers for your TV and still not connecting, there's a connectivity problem.
How Can You Troubleshoot Your Panasonic TV Connectivity Problems?
You can troubleshoot your Panasonic TV connectivity problems using the quick fixes below:
Unpair and Re-pair the two devices. Forget/Remove the device from your Panasonic TV and restore the connection.
Plug off and rest your TV. Get your TV off the wall for 1 minute. In about 10 minutes, press and hold its power button. Consequently, your TV is fully reset due to power cycling.
Restart your Bluetooth device. Disconnect your Bluetooth device from power and then reconnect it.
Keep your Bluetooth device in the correct proximity. Ensure your speakers are within a range of not more than 10 meters/30 feet from the TV.
Create a conducive Bluetooth connectivity atmosphere. How? By turning off all nearby Bluetooth devices apart from the one, you're pairing with your TV. Such gadgets interfere with connectivity.
Reactivate your WiFi connection. Unplug the router/modem for 1 minute, and then plug it back. Confirm that your TV's connection is up and running.
Ensure that your Panasonic TV and the Bluetooth device are running an updated version of Firmware.
If all the above fixes aren't helpful, reach out to the Panasonic Support Team for assistance.
FAQs
Can I Connect More than One Bluetooth Devices To My Panasonic TV?
Yes, you can connect up to 5 Bluetooth Devices to your Panasonic TV at once.
However, you must ensure that the Transmitter/Receiver is the set 'Bluetooth Audio Mode Settings.'
The Transmitter settings allow the connection of devices such as speakers and headphones. But, you must connect one gadget at a time. 
Does Panasonic TVs Have Audio Output?
Yes, Panasonic TVs have audio output.
However, unlike most TVs that use a standard audio output, Panasonic TVs like the Viera model use an optical output. 
To access the audio settings of your Panasonic TV, go to Menu > Sound/Audio >Digital Audio Output/Digital Audio Selection.
Is Viera Panasonic A Smart TV?
Yes, Viera Panasonic is a smart TV. It has an excellent performance due to its ability to stream multimedia content.
It casts such content from the internet into preferred Viera Blu-ray and HDTV players. It draws its name from the 'Visual Era.'
Is A Panasonic Smart TV Android?
Yes, Panasonic smart TV is Android. It makes it easy to enjoy your favorite programs due to its unique high-end images.
It provides a rich and exciting viewing experience you'll like to share with your loved ones.
Do All Smart Tvs Have Bluetooth?
No, not every smart TV has Bluetooth. But, approximately 75% of smart TVs are Bluetooth-enabled.
Some models have limited Bluetooth, known as 'Bluetooth LE,' that doesn't connect to Bluetooth audio or output devices.
Fortunately, even if your smart TV lacks built-in Bluetooth, you can use a transmitter to add it.
Final Thoughts
So, do all Panasonic TVs have Bluetooth to connect to speakers? Not all. But, most of the latest Panasonic TV models come with a built-in Bluetooth feature.
As such, you can pair them with Bluetooth speakers to have enhanced audio or headphones to enjoy private listening from your TV.
With the straightforward steps in this article, you can connect wireless speakers and headphones to your Panasonic TV within a blink of an eye.
And if you have issues connecting the gadgets, we have provided several quick troubleshooting techniques.