You probably shudder at scratching and scuffing if your home has the perfect hardwood or laminate flooring.
Although these floors make your room look elegant, the slick surface can make your couch slide. 
While the scratching and scuffing might not happen immediately, moving your couch around now and then may cause hideous damage to your floor.
Your room may also look uneven. 
How to keep your couch from sliding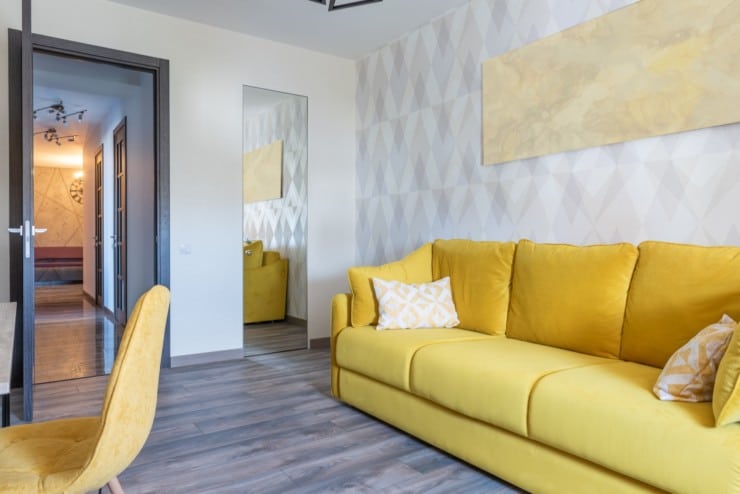 There are plenty of options available to help keep your couch from sliding.
If you need your couch to stay put, you can use products like gripers, furniture pads, felt pads, or simply keep your floors clean.
Most of these items require measuring your couch legs to align with your chosen product, and some may only need a little elbow grease to keep everything in place.
Let's look at these options. 
Furniture pads
Although one of the cheapest methods, rubber pads can be the most efficient, especially on a tight budget.
To find the correct size, measure the area of your couch legs for proper alignment. Simply place the furniture pads at the bottom of your couch legs to keep it stationary. 
Rubber pads are also easily accessible online or at a store near you.
Grippers
Suppose you're looking for something that will mesh with the rest of your furniture and decor.
Although pricier, grippers may be an excellent choice. They are not only customizable and aesthetically pleasing but also more durable. 
Ensure you measure your couch legs as it will help you get grippers that are the right fit and easy on the eye.
You can also choose the right texture depending on your floor type and couch, which may help your couch stay in place. 
Dust the floor
Although it's nearly impossible to strip your home of dust entirely, it can cause your couch to slide.
Floors are dust magnets. When cleaning, dust and wipe everything that touches the floor to minimize buildup. This will help stop your couch from moving around.
If you're using furniture pads or grippers, ensure your floor stays squeaky clean, as fine particles can gradually cause these products to lose their grip. 
Area rugs
If you decide to go with an area rug to keep your couch from sliding, ensure to buy a large enough size to allow the front legs of your sofa to sit on the carpet.
This will help minimize the sliding while tying the space together. 
While investing in a non-slip rug may be the most effortless way to keep your couch from moving too easily, it might not be for everyone.
If you're on a tight budget, you can purchase a non-slip pad that snugs underneath your carpet. 
Couch Stoppers
Couch stoppers are your safest bet if you're looking for something to prevent your sofa from moving backward.
While these may come at a slightly higher price, you may also build up your DIY couch stoppers at home.
These can be especially great for larger pieces of furniture such as loungers.
Place cardboard at the bottom of your couch legs and carefully cut out the blocks with the layout.
This will save you the headache of your couch constantly moving around or ramming against the walls.
However, if you have smaller kids who like to jump on the couch, stop blocks may not be ideal as they may not prevent scratch marks on your wooden floors.
Stop blocks work best if you only want to keep your couch from moving backward.
Leg felt
Leg felt is not only essential to prevent sliding, but it can also protect your hardwood floors from scratching.
While leg felt can be less efficient in preventing your couch from sliding than rubber pads and grippers. It can keep your couch legs from damaging your floors.
Place your couch in the corner of the room
Some people may prefer placing their couch in the middle of the room to open up the flow while unifying the overall space.
While this may be a great idea aesthetically, your couch may keep skidding and interrupting your rest. 
While pushing your couch to the corner of a room may not be trendy in the interior decor world, it might help solve the couch sliding problems in your home.
Cut a strip from a yoga mat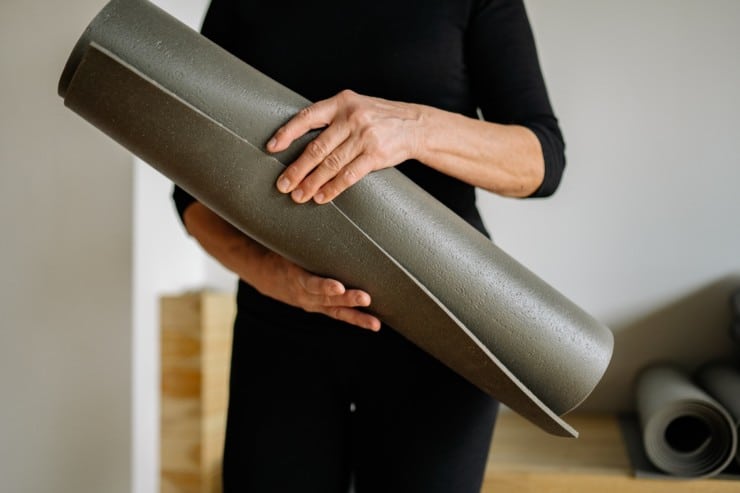 Simply cut a large enough part of your yoga mat depending on the size of your sofa, and then cut coasters from this.
Stick or pin into the feet of your couch. This will help your couch to stay put, especially with jumpy kids.
Use silicone caulk
Take your couch, flip it on its back, and pad the feet with silicone caulk.
Follow the instructions for drying, then put your couch back upright. This will help prevent sliding and protect your wooden floors from scuffing. 
Rubber drawer liners
If you love a good DIY challenge around the house, these rubber drawer liners may come in handy to keep your couch from sliding.
Cut small pieces of the drawer liners to fit your couch legs perfectly, and use strong adhesive tape to grip the couch legs firmly. 
This can be a quick fix method that may last as you shop around for a more permanent solution.
How to keep a sectional couch from sliding
One of the reasons a sectional couch keeps moving around is sitting on one side of the sofa. This causes each section to slide in different directions, leaving a space in the joint section.
You can place an area rug on your floor and ensure the front legs touch the carpet.
Additionally, you can place rubber foot pads on your couch feet. This will stop your sectional sofa from moving across the floor. 
You can also DIY by permanently connecting the sections using a sizable bolt and nuts to fasten with.  
Why you should stop the couch from sliding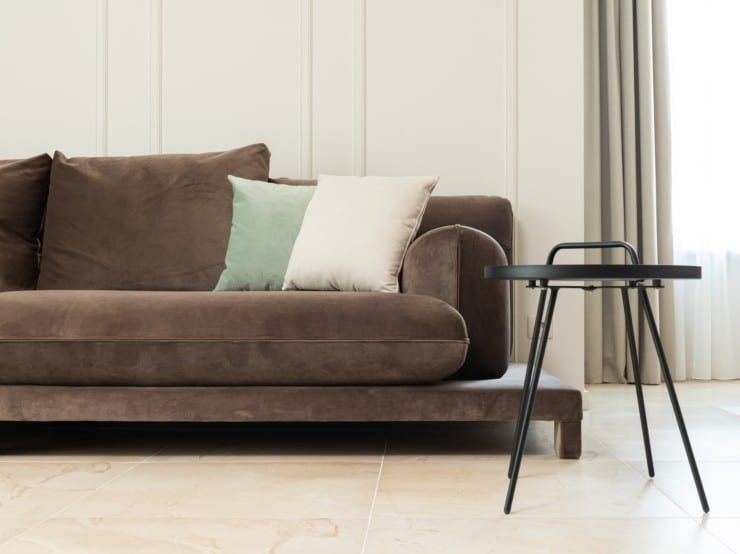 There are plenty of reasons you should urgently fix the sliding couch problem in your home. These reasons are: 
Floor damage
The constant sliding of your couch may cause extreme damage to your beautiful flooring.
The scratches on the floor are not only an additional cost to your budget, but they are also an eyesore.
It can be hazardous 
Sliding couches can be a disaster if you have kids or older people living with you. For example, if your kids love to flop onto the couch, it may suddenly slide, leaving them badly hurt.
A sliding sofa can also be unsafe for older people as they may fall, resulting in unwanted injuries.
Solving a sliding couch issue in your home allows you to keep your family safe from couch-related accidents. 
Your room may look slightly off
Constantly moving furniture, including couches, can turn a beautiful room into a messy nightmare. If your couch keeps sliding anytime you sit, it will mess up the arrangement. 
FAQs
What can I use to keep my couch from sliding around on hardwood?
You can try several methods to minimize the sliding from your couch.
You can place a rubber drawer lining under the legs, a piece of wood from the back of the leg to the wall that prevents the couch from moving back, or you can add extra weight to the sofa.
How do you keep your couch from sliding on laminate floors?
You can use felt pads on your couch legs in various sizes and shapes and are self-attached with adhesive on one side.
You can also DIY by cutting carpet pieces and using a solid bond to stick on the legs.
This will help minimize floor scratching when the couch moves and also helps with ease of movement. 
Why do felt pads keep coming off?
The most common reason felt pads come off is accumulated dust.
Dust can quickly wear off adhesive felt pads, causing them to slide off the bottom of the couch leg.
In some cases, the pads may have a weak double-sided tape that doesn't hold well, providing a weak bond.
How do you stop your couch from sliding on the carpet?
To enhance the grip beneath your carpet, you can add a rug pad that acts as a floor protector.
You can also invest in a non-slip rug as it minimizes the sliding significantly.
Final Thoughts
Whether your couch legs are thick, narrow, square, or round, there are plenty of options available today to prevent the nerve-wracking sliding.
A sliding couch may cost you your sanity and your maple hardwood flooring.
When choosing a method to fix your couch sliding problem, the critical point is paying attention to small details.
For starters, keeping your floor clean is crucial for keeping your couch in place.
It also allows the products you intend to use to keep your couch from sliding, like rubber pads and grippers, to last longer.
Before making any purchase, understand your couch and floors and choose a product that will be functional and aesthetically valuable.