How to Make a Smart Home Senior-Friendly
As the population ages, the desire to keep seniors comfortable, safe, and independent in their homes becomes increasingly important.
Technology offers an array of options to transform a traditional home into a smart home tailored to the specific needs of senior citizens.
Embracing smart home technology makes life easier for seniors and targets three crucial factors: accessibility and mobility, safety and security, and health and well-being.
By carefully evaluating and choosing smart home devices that cater to these aspects, seniors and their caregivers can create an environment that promotes independence and peace of mind.
Key Takeaways
Smart homes can improve seniors' accessibility, safety, and health
Choosing the right devices is crucial for tailoring to individual needs
Such technology promotes independence and peace of mind for seniors
Accessibility and Mobility
Voice Commands
Popular voice assistants like Alexa, Siri, and Google Home can help seniors easily control their smart-home devices.
These voice assistants can be connected to various smart devices, such as thermostats, smart speakers, and lighting systems, and can be operated via Wi-Fi, without the need for a smartphone.
Home Automation
Home automation allows seniors to maintain independence by controlling their smart-home devices through a central hub or software.
Routines and schedules can be created, automating tasks like setting alarms or adjusting thermostats.
Popular smart devices compatible with home automation include Amazon Echo, smart thermostats, and connected devices for climate control.
Smart Lighting
Smart lighting can enhance their comfort and safety with features such as motion sensors and customizable lighting routines that can make navigating their homes easier.
Smart lighting systems can be controlled using a smartphone or voice commands, allowing seniors to adjust the lighting as needed.
Benefits of Smart Lighting Systems:
Motion sensors to trigger lights when someone enters a room
Customizable lighting scenes and routines
Compatibility with voice assistants and smart-home hubs
Energy efficiency through automatic shut off
Mobility Aids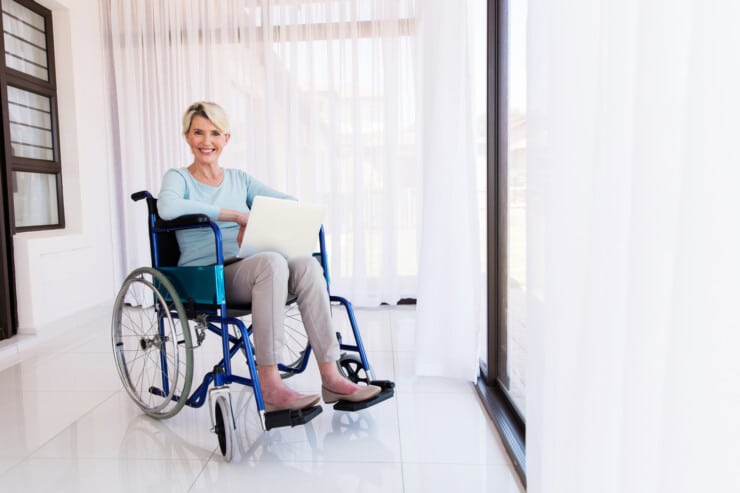 Integration of smart technology can also improve mobility options for seniors.
Devices such as smart sensors can detect falls and alert caregivers, while automated systems like stair lifts and motorized curtains offer increased independence.
As technology advances, more smart mobility aids will become available, ensuring seniors can comfortably age in place.
Safety and Security
Making a smart home senior-friendly involves prioritizing safety and security features that offer peace of mind to seniors and their caregivers.
This section will discuss Senior-Friendly Home Security Systems, Smart Door Locks, and Doorbells.
Senior-Friendly Home Security Systems
When choosing a home security system for seniors, it's essential to consider factors such as easy installation, user-friendly app interfaces, and compatibility with other devices.
Some popular home security systems recommended for seniors are:
Ring: Ring offers a variety of security cameras and motion sensors that can be easily installed and managed through their app. It also integrates well with their video doorbells and smart door locks.
Safe: Safe is another company that provides easy-to-use security devices. Their system includes 24/7 professional monitoring, so seniors can quickly call for help if needed. Safe also connects to existing smoke and carbon monoxide detectors, ensuring comprehensive protection.
| Home Security System | Key Features |
| --- | --- |
| Ring | Security cameras, motion sensors, integration |
| Safe | Professional monitoring, connects to detectors |
Smart Door Locks
These locks eliminate the need for keys, making it easier for seniors, caregivers, and family members to access the home.
They can be locked and unlocked via an app or a key code; some even include built-in cameras.
A few recommended smart door locks for seniors include:
August Smart Lock: This lock is easy to install on existing hardware and works with most smartphones. The app allows caregivers and family members to monitor and manage access.
Yale Assure Lock: With a touchscreen keypad and compatibility with various smart home systems, Yale Assure Lock ensures seniors' security and ease of use.
| Smart Door Lock | Key Features |
| --- | --- |
| August Smart Lock | Easy installation, app control |
| Yale Assure Lock | Touchscreen, smart home compatible |
Smart Doorbells
Smart doorbells can provide seniors and their caregivers increased safety and awareness of visitors.
With features like video streaming and two-way communication, seniors can easily see who's at the door without opening it.
Some popular options include:
Ring Video Doorbell: This doorbell offers HD video streaming, two-way communication, and integration with Ring security systems for a seamless experience.
Nest Hello: This device features facial recognition, motion sensors, and integration with Google Home for an added layer of security.
Seniors can enjoy more independent and secure living by implementing these safety and security measures in a smart home.
At the same time, caregivers and family members can have peace of mind knowing their loved ones are well protected.
Health and Well-Being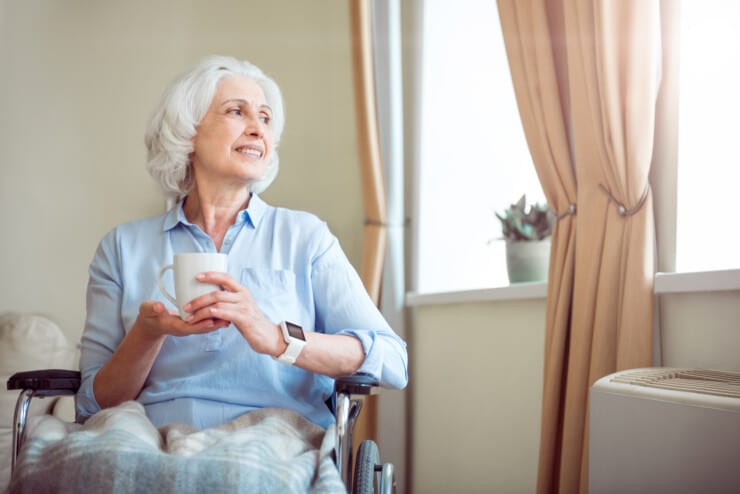 Making a smart home senior-friendly requires special attention to the health and well-being of its elderly residents.
Incorporating smart devices can improve the quality of life and help maintain independence for seniors.
Let's explore some key devices that can be useful in this endeavor.
Medical Alert Systems
Medical alert systems are essential components in a smart home dedicated to seniors.
These devices can be easily connected to a caregiver, family member, or even a doctor.
With the press of a button, help can be summoned if a senior experiences a fall or other emergency.
Some systems can even detect falls automatically.
Popular options include Apple HomeKit, Samsung SmartThings, and Google Assistant-compatible devices.
Some popular medical alert systems are:
MobileHelp
Medical Guardian
LifeStation
Smart Pill Dispensers
As seniors age, they may need assistance with medication management, especially if dementia is a concern.
Smart pill dispensers can be highly beneficial in ensuring proper medication intake and adherence.
These IoT devices connect to a mobile app, allowing caregivers or family members to monitor medication usage.
Some advantages of smart pill dispensers include:
Automatic alerts: Receive notifications if meds are missed or taken incorrectly.
Scheduled reminders: Set timers to help seniors remember when to take their medications.
Digital interface: Access medication data, shopping lists, and details of prescriptions via an app.
Some popular smart pill dispensers are:
Incorporating smart technologies like medical alert systems and smart pill dispensers into a senior-friendly home can provide comfort, security, and independence for elderly residents.
These devices can aid caregivers, family members, and doctors in providing the most effective care and support.
Evaluating and Choosing Smart Home Devices
When creating a senior-friendly smart home, it's important to research and carefully evaluate the available hardware and software.
Decision-making can be overwhelming with numerous devices on the market, from Google Home and Amazon Alexa to Apple HomeKit and Samsung.
To simplify the process, consider the following factors:
Compatibility
Ensure that the devices you choose work well with each other and can be managed through a single platform.
Google Assistant, Amazon Alexa, and Apple HomeKit are popular voice assistants that support a wide range of compatible products.
Ease of use
Older adults must be able to use smart devices effortlessly.
Look for products with simple interfaces and straightforward mobile device control systems.
Voice assistants like Google Home and Amazon Alexa offer valuable hands-free options.
Mobility considerations
Prioritize solutions that accommodate the various mobility needs of older individuals.
For instance, smart plugs can be remotely controlled, preventing the need to bend down, and adjustable-height smart fans can adapt to different seating arrangements.
Functional routines
Smart home devices can be programmed to follow pre-set routines, automating everyday tasks for seniors.
Customizable options include turning on lights at specific times, adjusting thermostats, and even prompting faucets to run at preferred temperatures.
Skills and capabilities
When selecting devices, assess their built-in features, or skills, that cater to the elderly.
For example, Amazon Alexa and Google Assistant can read news, set reminders, and even assist with grocery shopping.
Frequently Asked Questions
What Are the Best Devices to Assist Seniors Living Alone?
For seniors living alone, several devices can make daily life easier.
These include smart thermostats to help maintain a comfortable temperature, smart lighting for easy control and energy savings, and voice-activated home assistants like Amazon Echo or Google Home.
Which Smart Home Features Are Useful for Aging in Place?
Some helpful smart home features for aging in place include smart door locks for keyless entry and controlled access, wireless security systems to monitor the home's safety, fall detection devices to alert caregivers in case of emergency, and medication reminders from home assistant devices.
How Can Technology Improve Communication for the Elderly?
Technology can help seniors in multiple ways:
Video calling apps like Skype and FaceTime to connect with loved ones; Social media platforms for engagement and connection; and Companion robots that offer company and reminders for daily tasks
What Are Essential Modifications for an Elderly-Friendly Smart Home?
Key modifications for an elderly-friendly smart home are installing grab bars and handrails in high-risk areas, motion-sensing lights for improved visibility, and voice-controlled devices to avoid using complex touchscreens.
Which Home Assistant Devices Are Most User-Friendly for Seniors?
Two popular options for seniors are Amazon Echo devices that come with Alexa voice assistant, and Google Home devices with Google Assistant.
Both are user-friendly and compatible with many smart home products.
How Can Smart Homes Provide Safety and Security for Seniors?
Smart homes offer enhanced safety by monitoring entry points like windows and doors, instant alerts in case of smoke, CO2 leaks, or break-ins, and integrating cameras for real-time monitoring and peace of mind.
Final Thoughts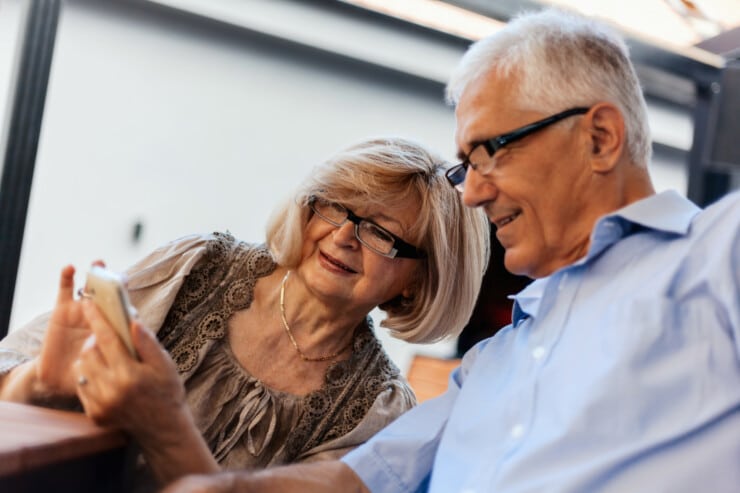 The transformation into a smart home isn't about flooding the house with the latest gadgets.
It's about discerning the unique needs of our seniors, identifying the technology that can address those needs, and creating a harmonious integration that enhances their quality of life.
It's about promoting independence, ensuring safety, and providing peace of mind.
Making a home smart and senior-friendly is an ongoing process, a labor of love that doesn't end with the installation of devices.
It's a dynamic journey that adapts to changing needs, always with the senior's comfort and well-being at heart.
It's about accompanying them in this digital era, demystifying technology, and ensuring they feel secure and capable in their home.
I hope this guide has empowered you with the knowledge and confidence to make a home smart and senior-friendly.
The greatest smart home gadget you can provide is patience, time, and your supportive presence.
Technology is just the tool; the real smart home upgrade is the love and care we put into making life easier for our elders.
Let's continue to embrace technology as a means of connecting, caring, and providing an improved quality of life for our senior loved ones.
They've spent a lifetime creating a safe home for us, and it's our turn to reciprocate.
With the right technology and much love, we can create a home where seniors can age gracefully, independently, and in tune with the digital age.
Until next time, happy, smart home building!