You are done with building your home, and everything is in place on the inside. It's time now to handle the exterior part.
The garden needs to be designed.
In your mind, you are clear on the plants and grass you will have. What's remaining is choosing the rocks that will augment your home.
In designing your garden, you need to choose and place rocks properly.
Your landscaping process is not complete until you accessorize the garden with the right rocks. They give your garden a sense of stability and connection to nature.
Your chosen landscaper has given you all the options you have, but still, it's not clear what rocks will best fit your garden.
This article will help you decide as it explores the different rock options you have and the tips to guide you on the best choice.
Best Rocks to Use for Landscaping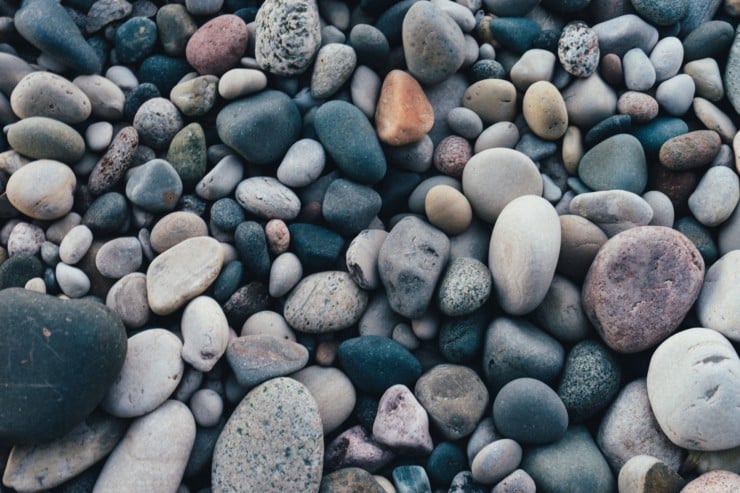 Below we look at the different rock options you have for landscaping your compound:
River Rock
These are the medium-sized rocks mostly found at the base of rivers.
The river rock is a durable, beautiful choice you can use as a decorative option that you place in between larger rocks or stepping stones.
If you plan to have a water or drainage feature in your garden, this is the best rock to have on location. Its smooth finish gives your garden that cool water effect.
The river rocks come in different sizes ranging from 1 inch to three inches.
Go for the smaller 1-inch size if you plan on having it between stepping stones.
Larger 3 inches of river rocks create spaces between them and can attract undesirable insects and reptiles residing in the spaces.
Lava Rock
The lava rock gives your garden a great volcano effect. As the word suggests, the lava rock is a collection of the rocks after the volcanoes cool off.
The rock comes in different shades, giving you the liberty to choose the color that best suits your garden.
You could even choose a combination of different shades for the various sections in your garden.
Lava rock comes in handy, especially for dry areas, as it absorbs heat during the day and releases it at night when the temperatures are cooler.
Given its lightweight, the lava rock is easy to transport and takes less time to spread out. If you have limited time to complete your landscaping, the lava rock will serve you well.
You can use the lava rock to accentuate a sloppy part of your garden to give it a hilly effect.
Alternatively, you can use it in between plants as mulch for the plants as it will help regulate the temperatures of the plants.
It will even serve the plants better if you have it as mulch in fabric. It will serve to suppress the weed.
Flagstone
The flagstone is among the common choices for landscapers and homeowners because it suits different sections well. 
Flagstones are unique in size, thickness, shape, and texture, and these aspects make them a great choice in giving your yard that natural effect.
The flagstones are also durable and versatile, making them a popular choice.
Among the popular flagstone, subtypes are sandstone, bluestone, and limestone. The common flagstone shapes used in landscaping are the irregular and the cut paver.
You can have the flagstone as your landscaping rock for different garden sections. Common areas where the stone would fit well include:
The walkway
Patterned stepping stones
Edges of different sections of your garden
Borderline of your water features
Swimming pool deck
Patio  surface
Fireplace
Given the uniqueness of flagstone, only your imagination can limit your creativity. There are so many designs that the flagstone can be laid out that appalls the mind.
The outcome of a flagstone will be determined by how well it's laid out.
When using the different flagstone shapes, ensure that the edges fit well, so you don't have sharp edges protruding. 
To turn out perfect, ensure you use the right pebbles for the flagstone. They help smoothen the edges of the flagstone leaving minimal spaces in between.
Boulders
These are the large smooth rocks that stand out prominently in your garden.
Boulders are a perfect addition to your landscaping, especially where the overall theme is to give your garden a hilly effect.
Boulders are eye-catching and beautiful any way you choose to have them. You can have them scattered around your garden or grouped to form a specific structure. 
When setting up the boulders, use concrete or gravel beneath them to prevent settling or sinking, especially if you have clay soil.
Boulders come in different shapes and sizes, giving you the room to get creative. You can lay out the boulders in any of these formats:
As clusters
Strategically positioned in different parts of your garden 
Stack different sizes of the boulders together, forming a wall
Form graduated steps by having different sizes of the boulders arranged in a ladder format
Form a retaining wall
With boulders, the options are limitless. You can stretch them as far as your creativity, budget and space allow.
Boulders are heavy and bulky. You may need to hire specialized transporters to ferry them for you.
This makes them expensive; however, their durability justifies their cost. They also add value to your property.
Marble Rocks
Marble rings opulence. Marble rocks will give your yard an elegant classic effect. They tick all boxes if you want a garden that matches your high class.
White marble can work perfectly in different sections of your garden.
For example, you can have them around a water feature, especially if placed in front of your house, along walkways, or between gardens.
It can also make a creative addition when you have it around a major feature in your garden, like a statue or a tree.
Avoid having marble in areas where you have plants because, over time, it affects your soil's acidity levels, which eventually affect the plants.
Granite Gravel
These are small in size and work perfectly in landscaping your garden.
Granite gravel makes a perfect choice for the driveway and pathways between the different garden sections.
It gives your compound a natural effect as it comes in either brown, tan, or greyish colors. Granite is a perfect choice if you want to cover a large area as it's budget-friendly.
Granite gravel drains well, and fixing it is easy; you can even do it yourself. If you change your mind in the future, it's also easy to remove. 
You can have granite either as crushed gravel or decomposed option. The granite will give your garden that homely, welcoming look.
Brick Chips
These are made from crushed bricks to have chips in different sizes.
The chips make a beautiful choice in landscaping, especially around plants, as they are good in moisture retention.
The brick chips are perfect for mulching as they don't attract insects or deteriorate.
In addition, they come in different sizes, so you can easily choose the correct size without further refining, depending on where you plan to have them.
For instance, if you want to use it on trails, you can have the smaller sizes ranging from ¾ to 3/16 inches, while you can have the larger sizes of ½ to I inch for mulching and general landscaping around plants.
Factors to Consider When Choosing Rocks to Use for Landscaping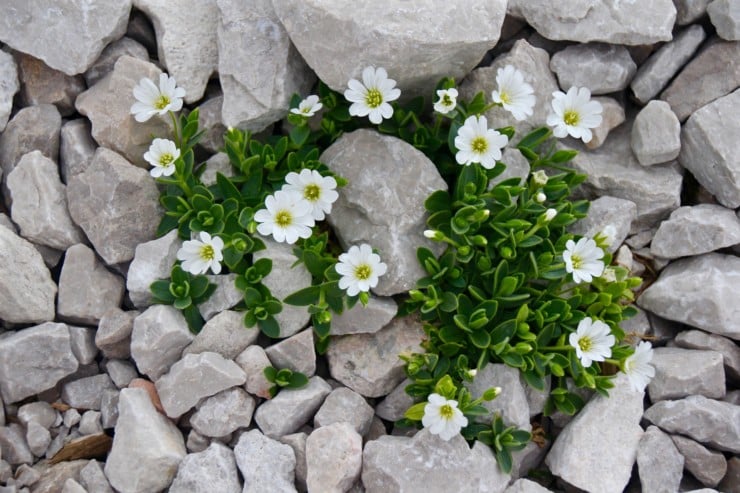 Before you settle on the rocks to use in your landscaping efforts, evaluate the following:
Drainage
Evaluate how well the rocks you settle for drain water. You don't want rocks holding water and making your pathway soggy.
You want a rock that will allow water through so that when it rains, your compound retains its beauty.
Purpose
Different rocks will serve varied functionality. For instance, if you are looking for mulching rocks, marble chips may not be your best option.
First, it's expensive to be hidden under plants; secondly, it affects your soil's PH levels. Brick chips, on the other hand, can be perfect for mulching.
Durability
Rocks are generally expensive, so you want rocks that will last.
You also don't want to throw money down the drain by having rocks that will lose their value over a short duration.
Go for quality stones that will last long enough as they beautify your yard.
Theme
When choosing the rocks to use in your garden, go for rocks that complement your existing home theme. 
Landscaping is artistic, and you need to accentuate the design with the right rocks.
For instance, if your home architectural design is castle-themed, then having marble chips will work well for your pavement.
Tips for Choosing Rocks to Use for Landscaping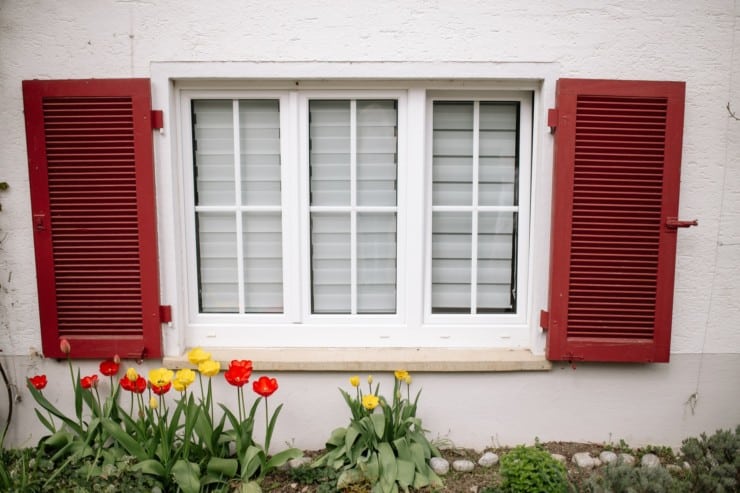 Apply these tips to help you choose the best rocks for your landscaping:
If unsure of the rocks to use, consult a professional landscaper to help you design and choose the best rocks
When using gravel, go for different types to break the monotony 
If using boulders, place them strategically where they will be eye-catching
Go for rocks that won't wither off after being rained on
Choose rocks that won't leave spaces below them as that can attract snakes to hide between the spaces.
Final Thoughts
Rocks are a great addition to your landscaping efforts. They give a natural feel to your garden and depict steadiness and permanence.
If you get what rocks to use for landscaping right, you will have created a great haven appealing to the eye and calming for the mind. Go for the best.