A sliding bed on a wood floor can be annoying and messy. It becomes uncomfortable when your bed moves with every move you make when sleeping.
When this is a big challenge to many wood floor owners, you may be in a continuous search for an ideal solution.
So, how to stop the bed from sliding on the wood floor?
You stop the bed from sliding on the wood floor by fixing some furniture stoppers. Get the right size and keep them out of sight.
Other options include placing a rug under your bed, using bed raisers, attaching the bed to the floor, wrapping the frame bottom with rubber, or fixing Velcro Flooring Pads.
This article gets to the depth of the various techniques you can use to keep your bed in one position for good.
How To Stop Bed From Sliding On Wood Floor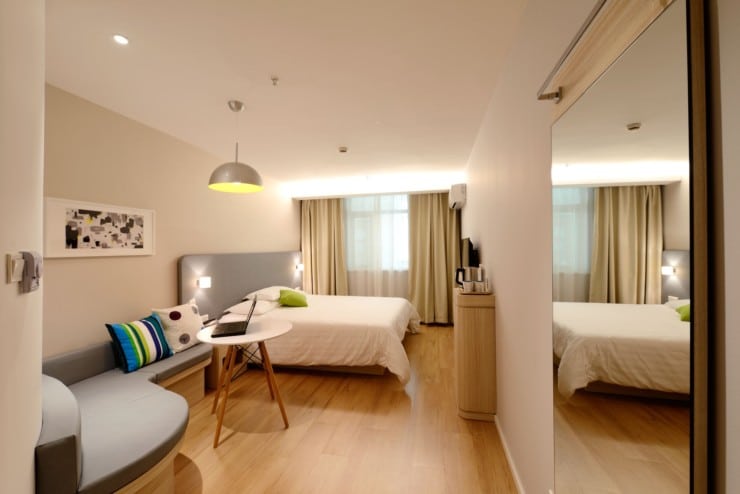 You can use various techniques to stop your bed from sliding on the wood floor. A sliding bed can damage your floor bringing in uncalled-for expenses of repairing or replacing.
Here are some simple and actionable tips you may consider.
Fixing furniture stoppers
Carpeting your floor
Attaching the bed frame to the wall
Wrapping the frame bottom
Utilizing velcro flooring pads
Positioning the bed in one corner
Investing in rubberized legs
Let's look at each of the above techniques. Keep reading for a better understanding.
Fixing Furniture Stoppers
Fixing furniture stoppers are readily available in different sizes and types for you to choose the one that best suits your bed. Below are some of them.
Non-slip pads: By fixing these pads beneath the bedpost or feet of your bed, you increase the grip between the bed and the floor. The pads are trimmable and hence, you can have the exact size you need and keep them out of sight. Moreover, they don't 'stain' your floor.
Rubber caster cups: Place them at the base of non-adhesive bedposts and casters to hold your bed in a fixed position. They are fit for regular and caster-designed beds and come in different sizes.
Rubber floor pads: These pads are suitable for all hard floors. You can use them beneath the bedpost and feet/caster to fasten your bed on the floor. They are designed in different sizes and shapes, and you can find them in a set of four.
Carpeting Your Floor
Placing a carpet or a rug below your bed is another effective way of stopping it from sliding. The key thing here is picking the right rug and placing it properly for maximum functionality.
Get a thick-piled carpet/rug so that the legs of your bed can 'sink' and grip into the groves for a secure position.
Ensure that all the legs of your bed are on the rug for more effectiveness. 
This technique offers double benefits because the bed's weight prevents the unnecessary movement of your carpet. 
Attaching the Bed Frame to the Wall
Fixing your bed to the wall is a permanent solution but may require you to put a few things into consideration.
Check if the type of wall you have can handle drilling and if you'll need to change your bedroom arrangement in the near future.
If your wall can't be drilled or you may think of changing your room's configuration, then, try the other options.
If the conditions are fit for you, go ahead and drill the frame of your bed for the mounting purpose.
For this task, get a drill, screws, and wall plugs and fix your bed permanently in the preferred position of your bedroom.
Alternatively, you can buy packaged wall-mounting fixtures for easy fixing. 
Wrapping The Frame Bottom
This method is simplest and cost-free. With old bicycle tires and cutting tools, you can have your bed fixed in your preferred part of the bedroom.
Determine the appropriate size to maintain uniformity before cutting your rubber pieces. Cut them and wrap each leg accordingly.
The tire creates friction between it and the floor, preventing the sliding of your bed. Although the outlook may be unattractive, this part of the bed is usually out of sight.
If you don't mind spending a few coins, purchasing rubber pads is the other alternative to this stopper. It's suitable for different surfaces. 
Utilizing Velcro Flooring Pads
Velcro pads are thin and unnoticeable and are designed in different sizes. They're easy to install and secure your bed in one place. 
These stoppers have an adhesive side that enables the legs of your bed to stick on the floor. You only need a few minutes to attach the pads to the legs. 
Velcro flooring pads provide a flat posture of your bed's frame on any flooring.
Nonetheless, the technique has one major downside. In case you move the bed, it leaves marks behind.
Positioning the Bed In One Corner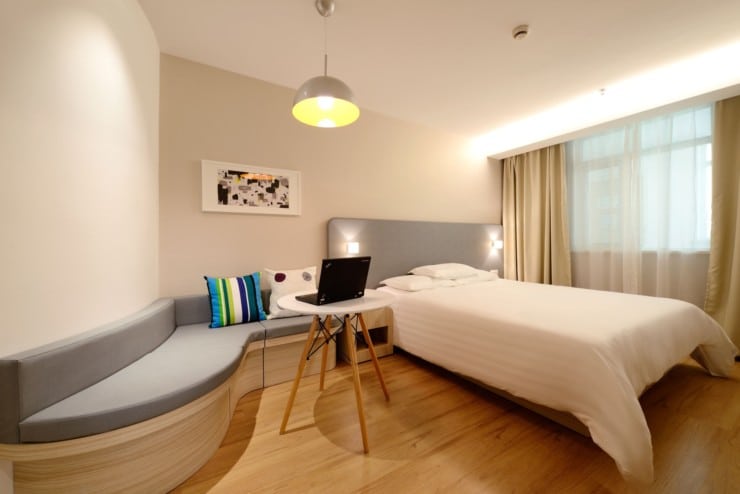 This sliding stopper is the most straightforward of all!
Simply fit your bed to the most appropriate corner of your bedroom and put a 'full stop' to unnecessary movement. 
Furthermore, this method creates extra space in your room that can fit other things which can make your room more attractive.
Be sure not to position your bed at the back of the door.
Nonetheless, the technique may be inappropriate, when you're sharing a bed with someone. Why? You have to enter the bed from one side or from the bottom.
Investing In Rubberized Legs
There are fantastic collections of rubberized legs for bed frames on the market. In your effort to stop your bed from sliding on the wood floor, you can replace your bed legs with such.
However, your bed legs must be detachable to benefit from this method. 
These legs come in various styles and designs. Hence, you have the freedom to choose the ones that suit your bed frame and enhance the good look of your room.
FAQs
How Do You Keep Furniture From Sliding On Wood Floors?
You keep furniture from sliding on wood floors fixing rubber pads under its legs.
These pads are available in your nearest home improvement store. Be sure to choose the right size of the pads that align your furniture's legs.
Measure the area of the legs of the piece of furniture in question for preciseness.
What Holds My Bed Off The Wood Floor?
Bed raisers hold your bed off the wood floor. They're sturdy and safe, and they do so by lifting your bed higher above the floor.
Moreover, the raisers should blend with your bedroom decor and if you can get such, paint the available ones or hide them with a bed skirt. 
A raised bed creates more storage space under the bed and leaves no room for sliding.
How Do You Stabilize A Wooden Bed Frame?
You stabilize a wooden bed frame by adding wood glue along the split length and using a flat head knife to spread it around the crack.
Force the two split ends back together using a bar clamp until the glue oozes out of the crack. 
Give them enough time for the glue to dry.
Final Thoughts
If your bed keeps sliding on your wood, it can make your nights very uncomfortable.
Luckily, this article has provided enough tips on how to stop the bed from sliding on the wood floor. 
Some of these stoppers are cost-free, others are cheap, and we also have costly ones. For that reason, consider your budget and pick the appropriate technique.
Additionally, consider the size of your room and weigh the pros and cons before settling on any of them.
In a nutshell, examine our suggested stoppers, choose your most suitable method, and put your nights to order.