What Color Grout To Use With a Gray Tile?
Choosing the right grout to go with your perfect gray tile is necessary to create the look you want. It may appear to be a simple choice.
It could, however, be a difficult task. Grout can either complement a room's décor or blend in with it to highlight other features. 
There are various gray grout color options, but the most popular and best-looking combinations are white grout, light grout, dark grout or black, and taupe grout.
The perfect color for you will depend on your personal preferences, as well as the room you're working on and other factors.
We'll go through a few things to think about and coordinate colors in this article. Continue reading to learn more about this, as well as some valuable tips.
Grout Colors To Use With Gray Tiles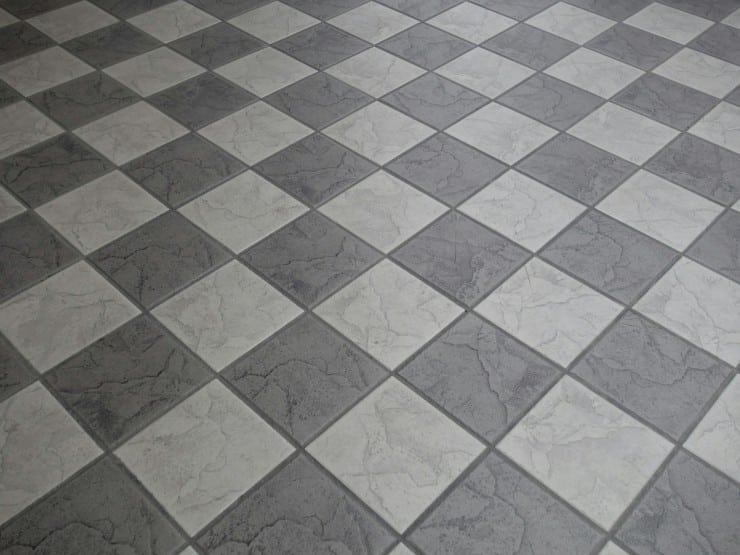 White Grout
White grout might be a lovely choice with dark tile if you want a vast contrast. It can also give off a retro vibe. You can also use white grout with light gray tiles for a bright, clean effect.
Perhaps you prefer a sparkling kitchen or bathroom. If you do, this is a combination to think about.
Light Gray Grout
A light gray grout is another option if you want a more modest contrast on your title work. However, using a darker gray tile with light gray grout would work.
When matched with a light gray tile, the visual similarity may be too much for the eye to enjoy. Furthermore, a clash between two gray tones that are scarcely different could occur.
Dark Gray Or Black Grout
Like white grout, you can use dark gray or black grout to create a subtle or dramatic contrast.
Taupe Grout
If you want gray tile in your home but don't want to give up your appreciation of earthy tones and a welcoming atmosphere.
You may also need to complement other brown-toned fixtures or decor in your home.
Luckily, you can pair light gray tiles with taupe or beige grout.
What to Consider When Choosing Grout Color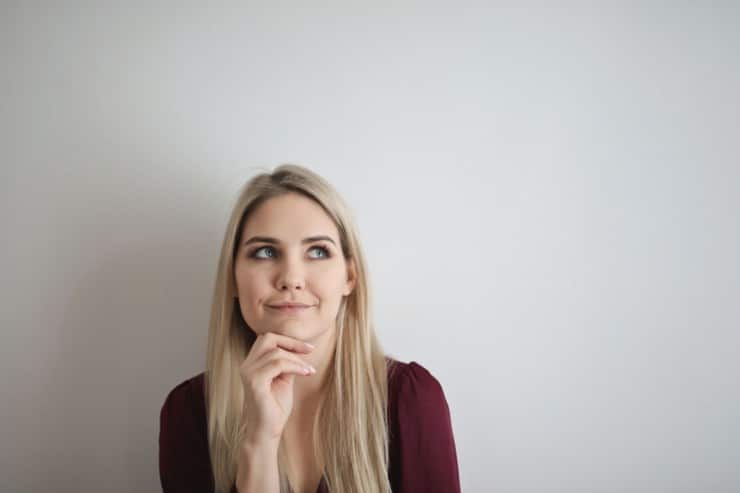 Different grout colors will make your gray tiles stand out and contrast the area. They can also mix the tiles into the background.
If you want to add a touch of elegance to your space, tile is a better option than paint.
Gray tiles can also have a reasonably neutral feel, allowing you to experiment with different grout colors.
Size of Room
One of the most crucial factors to consider is the size of the room you're tiling.
A huge room with gray tiles and bright white grout, for example, will have a lot of contrast. 
This may be too much for the eyes to handle, deviating from other room features.
However, matching the grout color to the tile color might make the room appear larger because the space serves as a vessel to display the decor.
A medium-sized space will benefit from a dark wall grout and a contrasting floor pattern. The blend helps to brighten the room.
Location
In high-traffic areas, tiles themselves can be pretty adaptable and easy to clean. With a lot of foot activity comes a lot of dirt.
Dirt and stains may appear more quickly on bright white, cream, or even light gray than on a darker color.
White grout in the bathroom will show a lot of stains.
Going with a deeper grout color will be more helpful unless you have the time to scrub the floor grout with bleach.
You might also choose a closely spaced tile that doesn't require visible grout joints.
Another place to consider is the kitchen. Spills and splashes occur frequently.
If you have a tiled backsplash, you can accidentally splash red sauce on it and see an orange spot after wiping it if you leave it for too long.
Because the kitchen is one of the busiest rooms in the house, designers often use darker grout for the floors.
Design
Clean-lined tiles with a light gray or off-white grout would give a more modern appearance.
This look is frequently seen with subway tile-shaped tiles, which create the impression of concrete without being too hefty. 
There's also the artistic look, which focuses on patterned tiles. When working with designed tiles, it's essential to choose a color already present in the tile to provide a seamless blend.
You can choose various grout colors to give your home a truly unique look. Choose a semi-dominant shade in the space with thinner grout lines.
Suppose you have a room with many warm colors, dark brown floors, and red and orange accents. Use grout tiles with a light brown or warm undertone color.
Multi-Colored
Multi-colored grout may appear to be particularly difficult to pick, but there are various appealing options:
To guarantee that the grout will pair effectively, match it to one of the colors in your application (start with the most neutral color).
Choose a grout color that is bright or dark enough to contrast with all of the colors in your tile installation. (This is a good option if none of your tile colors are incredibly dark or bright.)
Choose a grout color that blends into the margins of the tile as much as possible to avoid interrupting the pattern when using patterned tile.
When using veined stone-look tile, you can match the grout color to the tile's base color or the veining.
Tile Finish
The tile finish can also influence Grout color, such as dull or glossy. Since each tile will stand out on its own, polished tiles with dark grout will appear even shinier.
A lighter grout will soften the look of the tiles and give them a more soothing appearance. A lighter grout color will look out of place if your gray tiles have a matte or stone-like texture.
The Best Way to Match the Grout Color to the Tile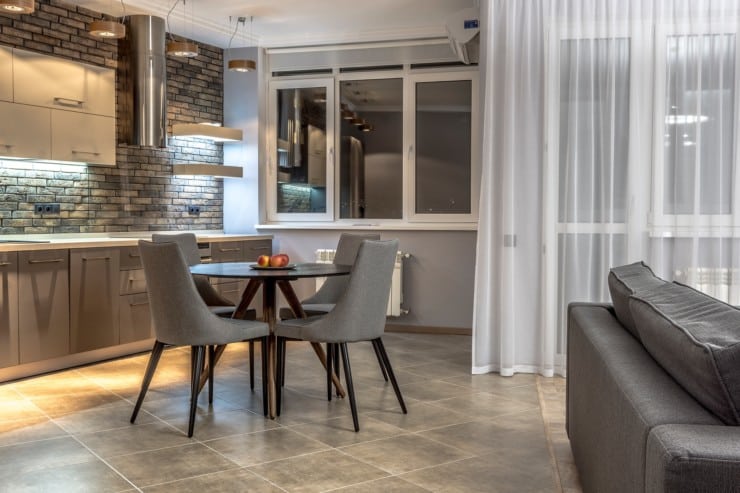 Many people want to get a visual picture of how the finished product will look.
As for color swatches, if you still can't visualize what the grout will look like, they're even available at your local hardware shop. 
Purchase sample-size grout together with a few tiles for a more captivating experience. Lay them out on a scrap of drywall or wood to get a feel of how they'll look once it has dried.
If you're having trouble matching fresh grout to existing grout, a grout chip sheet can come in handy.
Because the existing grout has already been exposed to foot activity, you'll need to determine whether you want to clean it to match the original or the color it has evolved into.
 A contractor or designer can take care of this aspect of the project while still allowing you to have the final say.
If the grout you purchased is too light, use less water to darken it. If the grout you bought is too dark, you can lighten it by adding more water.
How to Choose the Right Tile and Grout Combinations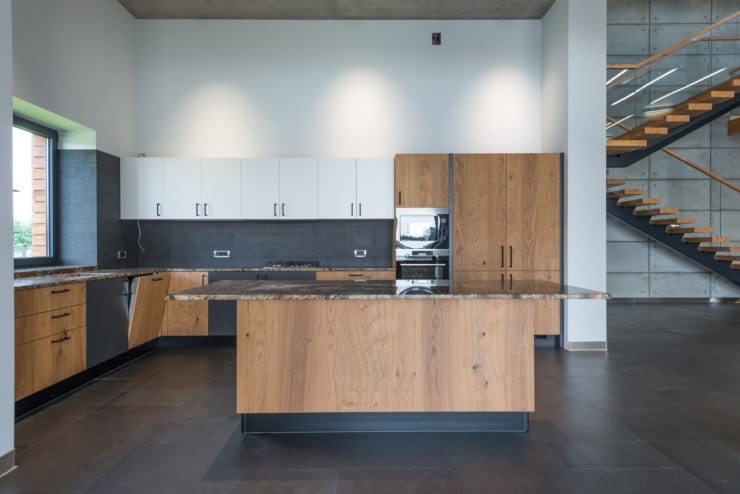 You have three alternatives when it comes to tile and grout selection:
Choose a Contrasting Grout Color
Choose a contrasting grout color when you want to accentuate the tile pattern.
For example, choosing a contrasting grout color to highlight a cool herringbone pattern works exceptionally well.
It also entirely changes a plain tile, such as a white subway tile.
Select a Grout Color that Complements the Tile
If you want the tile to stand out, choose a grout color that complements the tile. Selecting a grout color that matches the tile offers the most seamless appearance.
Choose a Neutral Grout Color.
Choose a neutral grout tone if you want your tile to stick out but not as much as a contrasting grout color.
To choose the proper neutral style, compare it to the rest of the room and the tile to complement rather than contrast.
Frequently Asked Questions
Should Grout be Lighter or Darker Than the Tile?
A contrasting hue is ideal for emphasizing the pattern created by your tile.
If you want to unify your tile, such as a wood appearance tile floor, choose a near match that's a touch lighter than your tile.
When Should I Use Gray Grout?
Gray grout is softer than black grout but considerably more user-friendly than white grout, making it ideal for a kitchen backsplash since it looks cleaner for longer.
Large white tiles generally appear better with gray grout because it frames the tiling.
Is it Possible to Use Black Grout with a Light Tile?
Choosing a deeper grout color conceals dirt and is less likely to change color as rapidly as a light-colored grout.
Dark grout against a light tile helps keep the effect from being too washed out by anchoring the white and adding depth to the look.
Final Thoughts
Selecting a grout color for your tile may be a tough decision, with numerous artistic factors influencing your choices.
Remember the style you want to imitate, whether it's modern, classic, or both, as well as the rest of your home's design and décor.
Above all, be certain that the tile and grout combination will make you want to spend time in your room.