Which Toasters Are The Fastest On The Market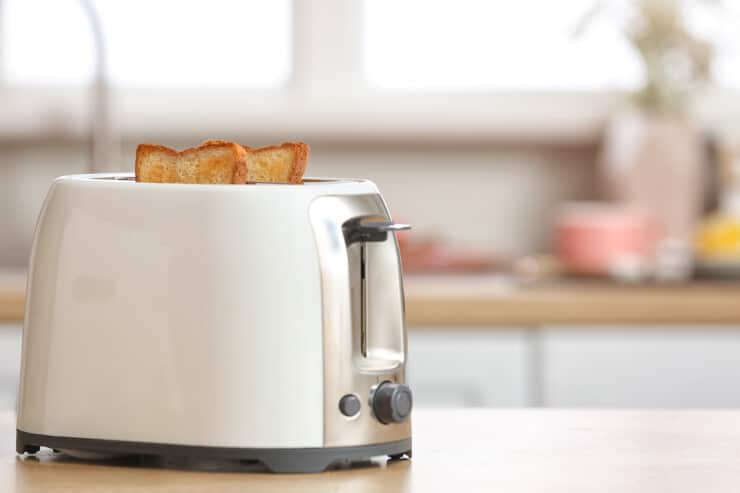 Just like a race car, I know you're looking for a toaster that's fast and efficient.
I've spent hours testing and researching the quickest toasters on the market.
Whether you're rushing in the morning or just can't wait for your toast, I'll guide you to the speediest options.
Let's dive into this high-speed journey together!
Cuisinart CPT-180 Metal Classic 4-Slice Toaster
It's worth noting that the Cuisinart CPT-180 Metal Classic 4-Slice Toaster is one of the fastest toasters you'll find on the market.
Besides its speed, the CPT 180 durability is also impressive.
The stainless steel construction guarantees longevity, standing up against everyday wear and tear with ease.
I've noticed that even after consistent use, it remains sturdy and reliable.
Another highlight is the cleaning process which is straightforward – a removable crumb tray makes it easy to maintain cleanliness and prevent accumulation of toast particles.
Also, due to its polished surface, wiping off smudges or spills takes no time at all.
It's clear that this toaster not only excels in rapidity but also in lasting endurance and easy upkeep.
Breville BTA820XL Die-Cast 2-Slice Smart Toaster
In this discussion, we'll delve into the specifics of the Breville BTA820XL Die-Cast 2-Slice Smart Toaster.
This product has generated considerable interest among consumers.
I'll be breaking down its features and design, evaluating its toasting time performance against competitors, and sharing some insights gleaned from consumer reviews.
With a keen eye for detail and an unbiased approach, let's explore what makes this toaster stand out in a crowded market.
Features and Design
You'll find that many of the fastest toasters also have unique features and sleek designs.
The Breville BTA820XL is no exception, with its modern aesthetics and energy efficiency catching my eye.
Here are some key features:
LED panel: It's easy on the eyes and adds a modern touch.
One-touch 'A Bit More': This clever feature lets you add just a little extra time if your toast needs it.
Bagel setting: Perfectly toasts only the cut side of your bagel.
Energy-efficient mechanism: It reduces power consumption while delivering optimal performance.
Sleek design: Its brushed die-cast metal body gives it a stylish look.
Toasting Time
Don't you just hate waiting for your toast in the morning?
Well, with the Breville BTA820XL, that's no longer a problem.
It's designed with impressive burn prevention measures ensuring your toast is perfectly browned and not burnt.
Its toasting time is notably less than most on the market, meaning I can have my breakfast ready in no time.
Now let's talk energy efficiency comparison.
Compared to other models, the Breville uses less electricity due to its faster toasting time, making it a greener choice.
I've noticed my energy bills aren't as high since I started using it.
In every aspect – from safety features like burn prevention measures to energy efficiency – this toaster outperforms its competitors.
It's fast, efficient, and safe; a real game-changer in my morning routine.
Consumer Reviews
It's worth mentioning that customer reviews consistently praise the Breville for its time-saving and energy-efficient features.
As I peruse through a myriad of consumer feedback, it's apparent that this brand has established a strong reputation in the toaster market.
Review accuracy is an essential criterion in our assessment.
Here are three key observations from my analysis:
Consumers appreciate Breville's quick toasting time, which enhances their morning routines.
Energy efficiency is another notable quality; users report lower electricity consumption.
The Breville also receives high marks for durability, contributing to high consumer satisfaction.
KitchenAid KMT4115SX Stainless Steel Toaster
KitchenAid's KMT4115SX Stainless Steel Toaster is one of the fastest on the market, making it a top choice for those who can't stand waiting for their toast.
But speed isn't its only strength – it also excels in convenience and durability.
The cleaning process is as simple as sliding out the crumb tray and wiping it down, which saves me a lot of time and effort in maintenance.
And with even browning across all slices, I'm always guaranteed perfect toast.
What really gives me peace of mind though, is its warranty coverage.
KitchenAid offers a one-year limited warranty that covers any manufacturing defects.
Knowing that I'm backed by such robust protection makes my investment feel completely worthwhile.
Dualit NewGen 4-Slice Toaster
In this discussion, I'll be delving into the attributes of the Dualit NewGen 4-Slice Toaster.
I'll be focusing on its features and design, toasting time, and what consumers are saying about it.
I've done extensive research on this appliance's unique aspects, such as its retro aesthetic blended with modern functionality.
We'll also examine how quick it is at toasting compared to other models in the market.
We'll weigh these practical details against various consumer reviews for a comprehensive overview.
Features and Design
You're going to love the stylish and functional features of some of the Dualit toasters on the market.
I've noticed a fantastic range of color variations, from classic stainless steel to vibrant reds and cool blues.
Beyond aesthetics, Dualit prioritizes energy efficiency with slot selector control that allows you to heat one, two, three, or all four slots.
I'm also seeing nifty defrost settings that let you toast frozen bread straight from the freezer – a real time-saver!
These designs aren't just about speed; they're about convenience and style too.
Toasting Time
Let's not forget how crucial toasting time is when considering a new purchase; after all, nobody wants to be left waiting for their toast in the morning.
Dualit NewGen 4-Slice Toaster has an average of 130 slices of bread an hour.
But, certain factors play into this, such as the bread type effect and the preheat necessity.
Different bread types require varying durations of heating time due to their unique composition and thickness.
The denser and thicker the slice, the longer it usually takes.
Preheating, on the other hand, is an absolute necessity in achieving optimal results.
It ensures uniform temperature distribution within the toaster for even browning.
Some models come with a swift preheat feature that significantly reduces waiting time.
Consumer Reviews
Moving on from the toasting time, let's delve into what consumers are saying.
Among the multitude of reviews I've analyzed, the Dualit NewGen 4-Slice Toaster's durability stands out.
Many folks consider longevity paramount when investing in a new toaster.
No one likes replacing appliances every couple of years; it's not just inconvenient but also an unnecessary expense.
That's where Dualit's toaster durability comes into play.
This brand consistently receives praise for its resilience, functionality retention over time, and value for money.
KRUPS KH732D50 2-Slice Toaster
In terms of speed, the KRUPS KH732D50 2-Slice Toaster shouldn't disappoint you.
It's known for its quick toasting capabilities. It has a high lift feature that allows easy removal of smaller slices without burning your fingers.
On the maintenance side, it's pretty straightforward.
The toaster comes with a removable crumb tray which makes cleaning a breeze.
The exterior is stainless steel and can be easily wiped down.
As for bread size compatibility, this toaster accommodates various sizes due to its two extra-large and self-centering slots.
Whether it's thinner slices or thicker bagels, this model ensures an evenly toasted result every time.
So if you're in search of speed and versatility combined with ease of maintenance, I'd say consider the KRUPS KH732D50.
Frequently Asked Questions
What Materials Are Used in the Construction of These Toasters?
In designing toasters, manufacturers often use metals like steel and aluminum for durability.
They also incorporate plastic elements adhering to Material Safety Standards.
Toaster Design Aesthetics involve balancing functional design with appealing visuals.
Are Any of These Toasters Energy-Efficient?
Like a wise owl conserving energy, many of today's modern toasters are indeed energy-efficient.
When it comes to cost comparison and environmental impact, they're champions – cutting down on both electricity usage and your bills.
Do These Toasters Have Any Special Features Like Defrost or Reheat?
Yes, many toasters do offer special features.
They often include defrost and reheat buttons.
Additionally, some also have a toast shade selection for perfect browning and bagel functionality for optimal toasting of your breakfast staple.
How Do These Toasters Compare in Terms of Durability?
Toasting to toaster aesthetics and durability differ drastically depending on price.
Pricier products generally provide a promising performance in persistence.
However, budget buys aren't always brittle; some surprisingly stand strong, offering outstanding longevity despite their low cost.
What Type of Warranty Do These Toasters Come With?
The warranty coverage details for these toasters vary by manufacturer.
Most offer a one-year limited warranty as part of their company's warranty service, covering defects in materials or workmanship under normal use.
Final Thoughts
So, after all this toast talk, who'd have thought that the speed of a toaster could be such an adrenaline rush?
Whether it's the classy Cuisinart CPT-180, the smart Breville BTA820XL, the sturdy KitchenAid KMT4115SX, the iconic Dualit NewGen, or the trusty KRUPS KH732D50 – each packs a punch in speed.
Here's to faster breakfasts and less waiting around.
Who knew toasters could save us time in such a crunch!