How to Turn Your Bath Into a Jacuzzi?
The idea of turning your bath into a Jacuzzi may seem far-fetched. And yet, it is very much possible at a fraction of purchasing an actual Jacuzzi.
If you already have a bathtub, some tools and a little extra cash can change it into a Jacuzzi embellished with heat, light, and bubbles!
Before setting off, let's distinguish between a Jacuzzi and an ordinary bathtub.
Difference Between Bath and Jacuzzi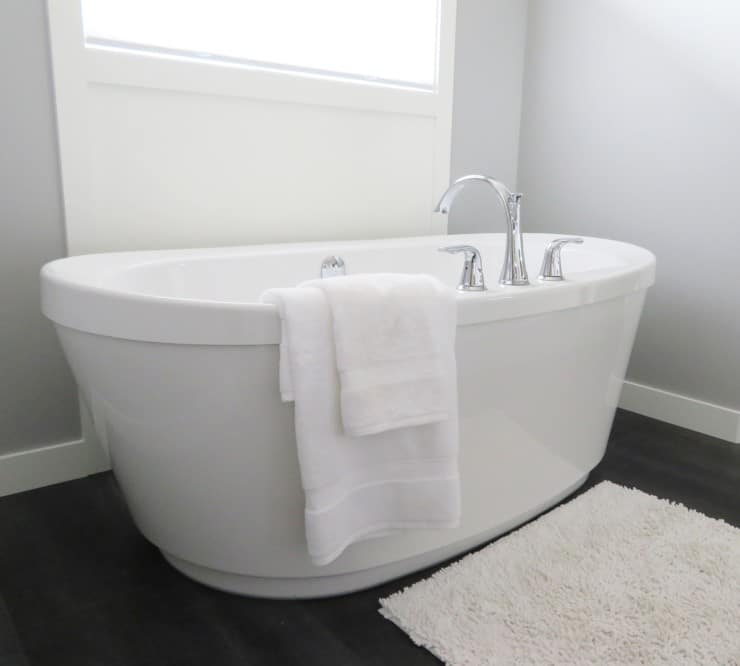 A bath tends to contain less water which cools if you stay in for long. Not to forget that it doesn't have any bubbles, lights, or heat.
On the other hand, a Jacuzzi is what you call a hot tub having jet sprays. There are also heating panels and bubble ports in it.
Some Jacuzzi may have lights to enhance their aesthetics and provide a wholesome feeling to the users.
So, on a theoretical note, you can turn a regular tub into a Jacuzzi by installing some essentials.
How To Turn Your Bath Into a Jacuzzi?
Some quick steps and a couple of installations can swiftly turn your bathtub into a Jacuzzi.
There is no need to purchase an entire toolkit, as you can buy most equipment separately.
Some of these elements run on batteries, so you don't have to fret over cable extensions or fear electrocution while taking a bath.
Check out the following measures that will tell you how to turn your bath into a Jacuzzi:
Cover the Drain
For starters, you have to ensure that the water capacity of your tub is optimal.
The overflow drain on tubs is positioned at a low point in most cases. However, it doesn't mean that you cannot fill beyond it.
An easy step is to buy an overflow drain cover. It is super easy to spot this drain in the tub.
There are holes beneath the faucet that will drain surplus water.
This simple device will amplify the depth of your tub by at least 2 or 3 inches. This is adequate to switch your tub into a Jacuzzi.
Get a Jet Bath Spa
The key to keeping your bathtub toasty is to keep it at a water level that submerges your entire body.
Once you have achieved it by installing the drainage cover, it is now time to create a bubbling stream.
The first way to do that is by adding a portable jet in your tub. You can easily find this device online. It is lightweight and mounts easily on your tub.
Don't approach this method with a perspective that you will get a different and 100% Jacuzzi experience.
Know that you will obtain a system that agitates the water, generates a bubbling stream, and covers around 1 foot of your body.
Also, ensure that the suction pump is tightly pressed on the sidewalls of the tub.
Apart from installing portable jets, you can also choose other ways to create bathtub bubbles. You have to fit some of these on the bathtub rim. Its floating system will revolve the water to make waves.
These devices have multiple options to set an emitted water wave frequency.
Consequently, the bubbling hot water brings a stimulating and calming impact after a chaotic day (same as the Jacuzzi does).
Install a Bathtub Massage Mat
This is a thick mattress pad having suction cups underneath it. Its air compressor functions as the primary source for this jet.
This will generate pressure that, in turn, pumps air.
However, there is one setback: the compressor is quite noisy. You can try dealing with it by playing some music or white noise in the background.
The function of this mat starts with a pump. You have to plug the portable pump into an electrical socket and attach the hose to the mat.
Next, you have to use remote control and set it according to your preference.
One should also know that there are some suction cups on the mat to keep it in its place within the tub.
Air can escape from this bubble mat and release pressure.
When hot air moves in the water, it will also amplify its temperature. Take the experience up a notch by adding essential oils or soap and get your favorite fragrance to have a calming me-time.
Purchase Permanent Whirlpool Jets
Indeed, you can permanently convert your bathtub into a Jacuzzi. But, there are some costs associated with it.
Installing a whirlpool jet is the best way to modify your bathtub.
The price of these lies anywhere between $350 – $600. It relies on the quality and quantity of the jets you pick.
Or, you can go for the DIY whirlpool kit. This can turn your standard bathing tub into a whirlpool bath.
Of course, it requires the addition of a few jets in the tub. These machines suck the water, purify it, and then the water gushes outwards.
Installing the jets helps to provide an efficient and targeted experience when the whirlpool is created.
Drilling holes at the tub's sides are also required when you opt for the whirlpool jets. You can do so when the tub is attached to the wall, and it is challenging to remove.
Install the Proper Lights
No Jacuzzi experience gets completed without submersible lights. And if you can find colorful lights, that would be a cherry on the top!
You can find submersible LED lights online and in the home stores. Some of them can be controlled by a remote.
They may be battery-operable, but the batteries may last for over 40 hours. All you have to do is slip it into the sides and bottom cast of your hot tub.
If you have a fiberglass tub, you can position the lights at the bottom of the tub as it is heavy and cannot move out of their place. The remote control of these lights allows you to switch lights on or off.
You can even set a unique range of lights in some systems and watch them give you an enticing show!
We recommend that you put 2 or 3 lights in the tub to give you a spa-like experience. These lights are available in several price ranges.
Some of the expensive ones include suction cups and magnets that adhere to the tub's sides.
Use an Essential Oil Diffuser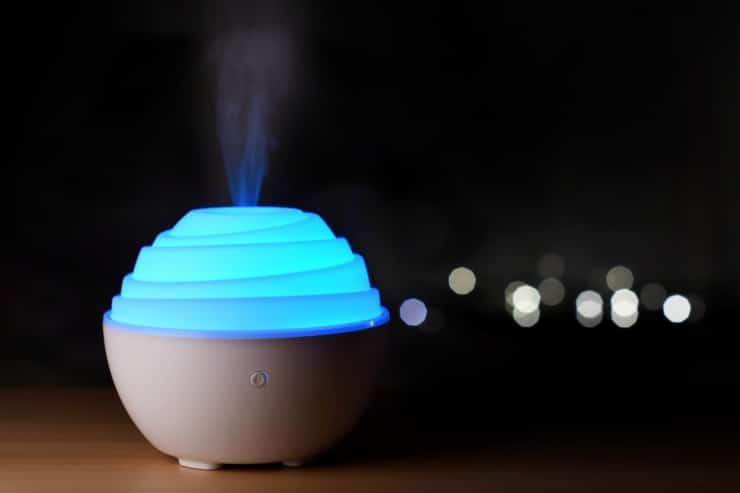 Essential oils have proven to soothe sore muscles and help you sleep better. You can relieve the day's havoc by using calming essential oils in your bathtub.
An essential oil diffuser is a trendy spa instrument that lets you make the most out of your bath time. The benefits of aromatherapy are becoming vivid with each passing day.
Make sure you choose an energizing scent, like citrus or cherry blossom. This boosts alertness and your ability to focus.
Some essential oils have anti-inflammatory properties. These will help to rebalance your skin and work on the allergens.
When choosing essential oil flavors, you must ensure that you or your family members are not allergic to them.
If you are using an oil for the first time, you should run the diffuser for a while and monitor if it creates any reaction on you as you inhale the scents.
Use a Bath Pillow
Bath pillows are your perfect companion if you yearn for a soothing bath.
They are available in all shapes and sizes. So, finding the right one for you may ask for some research and consideration.
Firstly, you should pay attention to the shape of your tub. You will find pillows that sit against two walls and pillows with wide edges.
Likewise, there are pillows that are waterproof or filled with foam.
Whatever bath foam you choose for the Jacuzzi, you should make sure that it is mildew-free.
One of the main reasons behind adding bath pillows is to enhance comfort. Usually, tubs aren't designed for comfort, and your head keeps sliding off.
A bath pillow will stick to the tub's sides. The suction cup creates a firm grip that keeps the cushion from sliding.
Use Bath Products
You can also use the bath products to enrich your Jacuzzi experience at home.
There are tons of bath products out there that you can get. But it would help if you were cautious about the way you use them.
If the salts or bath bombs penetrate the jet, they may damage the system.
Install Water Resistant Shower Speakers
A soothing Jacuzzi time is incomplete without calming music.
A waterproof speaker may help you in this regard. There are several Bluetooth water-resistant speakers available in the market these days.
Consider the cost-effectiveness and invest in your favorite brand.
You can use this device to listen to your favorite music or play nature sounds while you submerge yourself in the tub.
Invest in a Bathtub Tray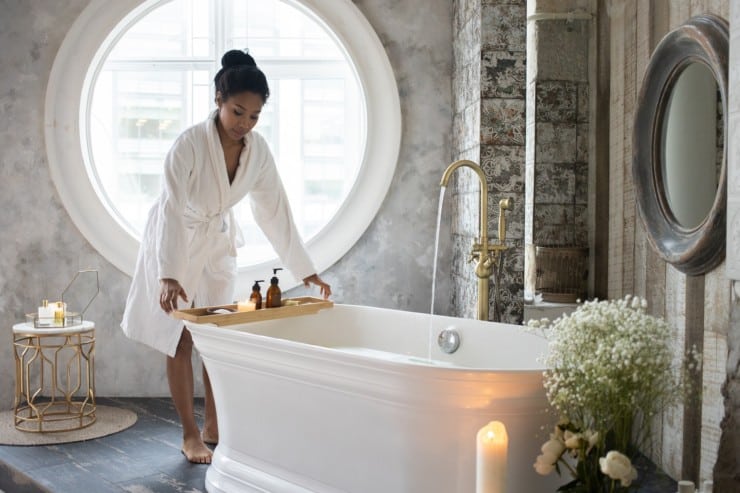 It would help if you placed the essentials where they are accessible. A bathtub tray gives an ultimate update to your Jacuzzi setup.
Besides holding your stuff, this tray can also work as a bookstand. You can mount your book or an iPad to watch a movie while you soak yourself in hot water.
Plush the Floor
As soon as you step out of the tub on cold tiles, you may want to dive back in.
You must invest in some floor rugs or a heated floor underlay.
Another option could be investing in heated towel railings to ensure that you keep experiencing warmth and comfort once you have stepped out.
FAQs
Can I use a bubble bath in the hot tub?
If you have a regular tub and you have installed a portable bubble massage device, you can use a bubble bath in it.
These devices are likely to generate more bubbles, so we recommend that you begin by adding a quarter of the amount of bubble bath mentioned on the bottle.
On the other hand, if you have installed a whirlpool jet system, avoid using bubble baths as they may penetrate the system and create bacteria.
Does a Jacuzzi bath require electricity?
Yes, you need to have a well-structured electrical system to power a Jacuzzi. Its jetted tub needs electric ability to work and create a bathing action for the pump.
What are the risks of soaking yourself in a hot tub?
Whether it is the actual Jacuzzi or a makeshift, some guidelines are to follow. For example, medical professionals unanimously agree that hot tubbing is unsuitable for heart patients.
Simultaneously, people with certain skin conditions and blood pressure problems should avoid hot tubs.
What is the difference between a Jacuzzi and a jetted tub?
The primary difference between a Jacuzzi and a jetted tub is the size.
A jetted tub is an ordinary bathtub with jets installed within the structure. In contrast, a Jacuzzi is a large tub that can fit two or more people within.
Can a makeshift Jacuzzi add value to a home?
Any added feature that enhances luxury tends to enhance the value of a home. Therefore, turning your bathtub into a Jacuzzi is a good idea.
You can also invest in a hefty mechanism like whirlpool jets, as the investment pays off when you decide to sell your property.
Final Thoughts
Most of us crave a long, relaxing bath time at the end of the day. Although only some can afford the luxury of diving into an actual Jacuzzi, most people need to be creative.
You can turn an ordinary bathtub into a Jacuzzi with some simple installations. Bathing will become your favorite activity, and you will feel your energy levels spiking each day.
Following some of the strategies listed above is easy and light on the pocket. But there are some that may take a pluck on your buck.
If you choose to go with the latter, for instance, installing air hoses and electric spa motors, you may end up with a durable Jacuzzi system.
The choice of equipment depends upon the budget and requirements. For example, investing heavily in the bathtub may be pointless if you live in a rental apartment.
Thus, choose your options wisely and research well to make informed decisions.