What Are the Standard Curtain Sizes?
As the finishing touch for your interior décor, window treatment is something you want to get right. While there's a wide range of window treatments, curtains are the most popular option.
Curtains can transform a space by providing style, shade, and also privacy.
However, the different sizes and lengths can make it arduous to determine the perfect one for your needs and lifestyle. So, what are the standard curtain sizes?
Most commonly, curtain sizes come labeled in width, then length. The widths are usually 44 inches, 66 inches, and 90 inches, while the lengths are 84 inches, 96 inches, and 108 inches.
Nonetheless, don't go for curtains just because they're big to cover a window.
Read this guide to help you fit your curtains perfectly.
What Are the Standard Curtain Sizes?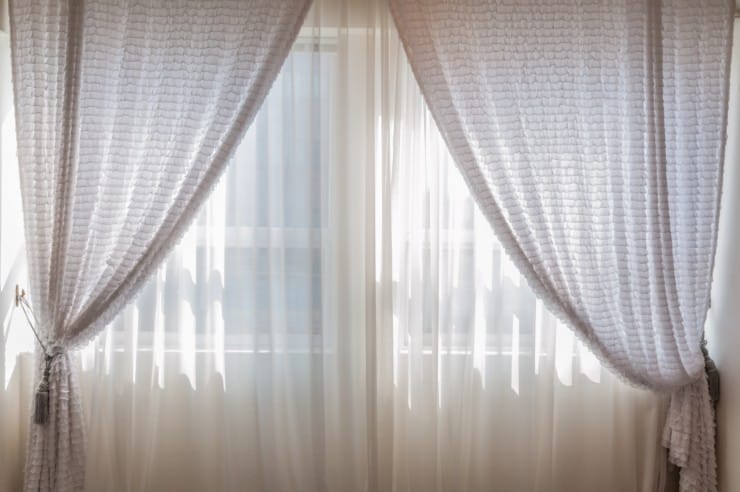 There's usually one standard curtain width and different lengths.
The width is 48 inches, and the lengths are 63 inches, 84 inches, 96 inches, and 108 inches to suit your preference.
Most importantly, your window type determines the size and length of your curtain, not to mention how near the floor you'd prefer.
Remarkably, today the internet provides all the answers to your searches.
So, you can find curtains varying in sizes, shapes, designs, materials, and colors. Even so, some people are impossible to satisfy.
The hard-to-please people prefer custom-made curtains.
Custom-made curtains are ideal for people who have the time to wait and a big budget. They don't come cheap.
Width
The standard curtain width is all the same — 48 inches wide in most cases. Usually, the length is what differs depending on your window type and preference.
So, the main challenge lies in length rather than the width.
Besides, if your window is wide, you can add several curtains to achieve your style.
Length
As discussed above, the difference in the size of curtains mostly depends on the length- they are many. Curtain lengths come in 4 different sizes;
63 inches or 160 cm
84 inches or 213 cm
96 inches or 244 cm
108 inches or 274 cm
120 inches or 305 cm
Nonetheless, you'll hardly find a curtain as long as 120 inches and as short as 63 inches.
Remember that you shouldn't buy curtains the same size as your windows as this leaves an awful gap at the top and bottom.
Instead, buy curtains covering the whole window, including the gaps at the top and bottom.
Preferably, a minimum of 6 inches between the curtains and the bottom of the window is ideal for maintaining. That's the whole point of providing privacy – no gaps.
Additionally, it's essential to consider your ceiling's height and the effect you want your curtains to create in your space.
Styles for Curtain Panels
The length of your curtain depends on your preferred style.
Check out below the most common style for your curtain panels.
Floating
Floating curtains are the best if you want a chill and relaxing effect in your space. The floating panel style allows you to create a broad view and gives a nice frame to your windows.
Going by the name, floating curtains don't reach the floor.
They float between the ceiling and floor to cover the window sufficiently for utmost privacy, not to mention an elegant look for your space.
Get a sheer or lighter color for your floating curtains if you want a gentle effect. Better still, you can achieve an elegant look by adding draperies to tie to the wall.
Floor Kissing
Large rooms or those with high ceilings would look very elegant with floor kissing curtains. Typically, floor kissing curtains are long but don't overflow on the floor.
When shopping for floor kissing curtains, it would be best to buy a slightly larger size than you require. This way, shortening them is much easier if necessary.
Besides, you don't want curtains you can step on.
Also, it's better to buy longer curtains instead of getting floor kissing curtains that are inches shorter from the floor.
Measuring and shortening the curtains by yourself can be a challenge, so buying custom-made floor kissing curtains is better.
Puddle
Just like a puddle, puddle-length curtains overhang your floor. Also, they are longer than the size of your window.
Furthermore, they aren't easy to install and maintain, but they have a formal and elegant look. Puddle-length curtains create a dramatic appearance; hence come on patterned thick fabrics.
Mostly, you'll see this curtain panel style in wealthy homes or dark dining rooms, but it should be away from pets and children.
Special Lengths
Special-length curtains are ideal for those windows that don't need complete coverage, like kitchens and open spaces.
Special lengths curtains shouldn't be long or thick since they'll hold odor and quickly get the grease. They come in three types:
Window sill curtains: As the name suggests, these curtains work within the level of your window sill. This height is distinct to blend with the kitchen shelves and counters.
Valances: Because they are 5 inches long, they can cover the window from the top hence blocking out extreme sunlight. You can find them mostly in old-fashioned houses with a cottage style.
Tier curtains: They cover only two-thirds or the bottom half of a window with a length of 30 to 35 inches. They only offer the required small amount of privacy.
How to Correctly Measure the Curtain Length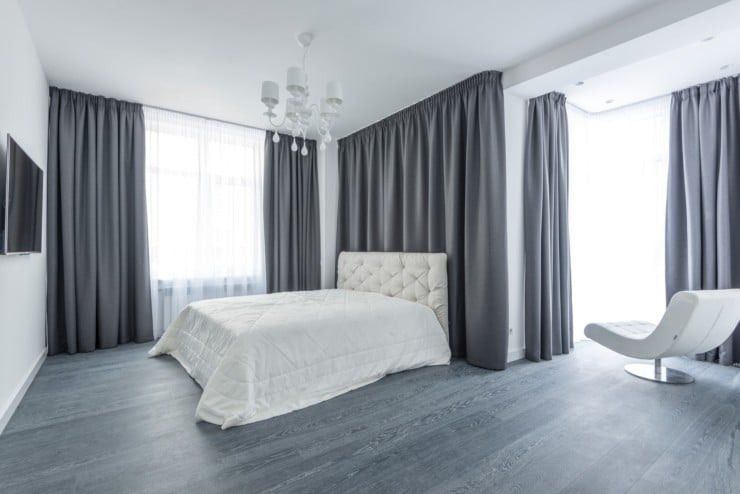 To get the correct measurements for your curtain length, measure from the floor upwards. It's a perfect way to ensure that you don't get short curtains.
There's nothing worse and awkward looking as short curtains. So, ensure you measure using a reliable measuring tape.
Moreover, ensure your curtain pole is a minimum of 4 inches up from your window's top.
When taking all the measurements, remember to note them down. It would also help to repeat the measuring three times to get the precise length.
Frequently Asked Questions
How Wide Are Curtains For A 100-inch Window?
For a window width of 100 inches, you should get curtains of about 125 inches wide to allow hanging correctly.
To achieve a precise measurement, start from the edge of the inner frame to the opposite inner edge. 
Should Curtains Hang To The Floor?
According to the interior decor experts, you should let the bottom of your curtains fall to the floor.
But if you don't want to drag curtains on the floor when you close and open, consider hanging them about an inch from the floor.
Final Thoughts
What are the standard curtain sizes? From the extensive guide above, buying your desirable curtain should be easy.
The suitable curtains change the appearance of your space by providing a facelift. Also, curtains can successfully hide the parts of your room that you don't like or want people to see.
Most importantly, you should buy curtains that fit your windows and blend well with the appearance of your room.
Last but not least, ensure you get the fabric and color just as correct and the length to love your space even more.